Outfitters Kauai brings you an amazing adventure, where you will paddle on the historical Wailua River before going on a memorable hike to reach a 100-foot waterfall. You have flown all the way to Hawaii, so take your vacation to the next level and discover Kauai's best hidden secrets!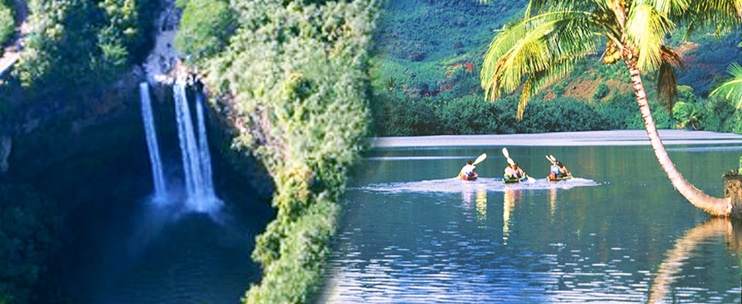 Here's a fun fact about the Wailua River: Did you know that it used to be the favorite home of the last king of Kauai, King Kaumualii? Ancient rulers like him specially recognized this area for its fertile bank and ease of navigation, making it the center of culture and economics during those times. Also, the presence of seven sacred heiaus beginning from the mouth of Wailua River to its origin point on Mount Waialeale, which you will see on this trip, tell the spiritual importance of this site.
So, what should you expect on this trip? First of all, let us tell you the must-haves on this trip especially if it's your first time to kayak. Some guests bring swimsuits, but many wear it under their clothes. Whichever you prefer is fine as long as you have something dry to change into after the trip. Because you will be hiking one mile and the trails could be muddy, it is strongly recommended to wear hiking boots, running shoes, or something light with straps. Other essentials are towels, sunscreen, sunglasses, rain gear, and hats. This tour doesn't cancel even when it rains, unless the weather becomes extremely dangerous. Lastly, you should not forget your waterproof camera! You will be seeing unique, captivating spots that are truly worth capturing. You don't even want to miss taking selfies at the falls.
After checking-in, you will receive a short briefing on safety, basic instructions about kayaking, and some additional information about the site. You will also be provided with the best equipment necessary, including comfortable, padded high-back backrests and high-quality paddles, so your safety is ensured. Besides, your experienced guide will take care of you all the way.
From the heart of Kauai, you will start to paddle traversing the Wailua River towards your destination, while your guide narrates interesting stories, history and myths about the place. Along the way, you will pass by several heiaus, the Kamokila Village, and North Fork before reaching the trailhead of the towering 100-foot Secret Falls or Uluwehi Falls. 
After parking your kayaks, you will go for a short 1-mile hike to reach the falls. Brace yourself for a breathtaking scenery that you will witness. Take advantage of the opportunity to take pictures of this hidden gem, especially its water that gracefully cascades into a natural pool surrounded by rocks and vegetation. You can relax on the sun-warmed lava rocks, or take a dip on its warm water. Before hiking down for more paddling, you will eat your delicious lunch here, including vegetables, smoked turkey, and more!
Tour Highlights
Traverse the Wailua River with your stable kayaks all the way to the shadow of Mt. Waialeale

Glide past jungle landscapes on Hawaii's largest tropical river

Paddle through Wailua River State Park deep into the rainforest

Land your kayak and hike past remains of ancient Hawaiian home sites

See a gorgeous 100-foot waterfall

Cool off in the refreshing streams
Tour Inclusions
Delicious lunch: Turkey Watercress Wrap: Smoked Turkey, Watercress, Cream Cheese, Sprouts, Cucumber, Tomato, Onion and Black Olives in a Tortilla OR Mediterranean Veggie Wrap: Hummus, Lettuce, Tomato, Kalamata Olives, Cucumber and Feta Cheese in a Tortilla
Note: Lunch comes with a pasta salad and a Chocolate Chip Cookie. Cold drinks are available throughout the day.
Comfortable, padded high-back backrests, quality paddles
Additional Instructions
Morning Tour Check-in time:

7:45 am, returns at 3:00 pm
 Afternoon Tour Check-in time: 11:00 am, returns at 6:00 pm
Note: This tour is offered seasonally during the summer season only. Guests staying in the Poipu area or at west side resorts will check in at Outfitters Kauai, 2827A Poipu Rd, Poipu, HI 96756.
Directions from the East/North Shore: Go south on HWY 56. Cross the Wailua River and make an immediate right into the Wailua Marina/Smith's Tropical Paradise. Follow that road back to the Smith's Tropical Paradise (past the Wailua Marina). Park in the single lined paved car spaces to the right of the Smith's Tropical Paradise entrance, not in the bus sized or handicapped spaces. Please wait at your car for the Outfitters Kauai van to pick you up.
Restrictions:

Participants must be at least 5 years old and weigh under 275 lbs (125 kg), and are able to walk 2 miles of rugged trail and kayak for 60-90 minutes.

Operations:

Monday to Saturday

Duration:

Approximately 7 hours