Not everyone may know, but paniolos, or Hawaiian cowboys, form an important part of Hawaii's culture.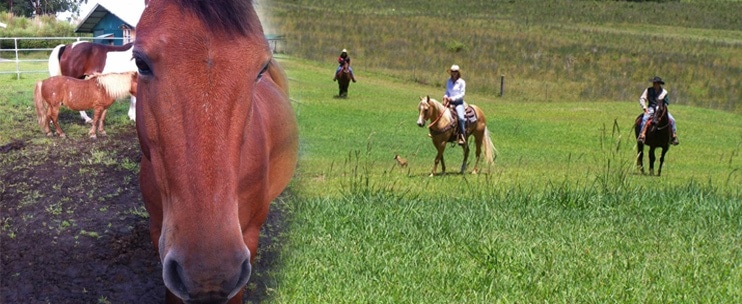 These horse riders trace their roots way back in the 1800s, when Mexican cowboys were taken to the Islands by King Kamehameha III for the purpose of rounding up wild cattle and teaching the native Hawaiians proper cattle and horse handling skills. This part of the history of Hawaii is ultimately the reason for the emergence of vast ranches in the Island, and as well as modern-day paniolos! Thus, when you get the chance to vacation in the Big Island, there are tour companies like Pa'ani Ranch that lets you have a one of a kind paniolo experience, while enjoying the wonderful views during the ride. For this exciting horseback riding and sightseeing adventure, go and book Pa'ani Ranch's Paniolo Ride!
The Pa'ani Ranch is a 220-acre working cattle ranch that offers a number of fun and wholesome activities for the whole family to enjoy. What's great about Pa'ani Ranch's package tours is that even children will get to join and have a pleasurable time in, so if you are travelling with your little ones, the ranch is open for you and the rest of the group for an unforgettable tour adventure! 
For this tour in particular, Pa'ani Ranch's Paniolo Ride is a 90-minute horseback riding tour open to riders as young as 8 years old! Just like a true paniolo, you will ride through the vast area of verdant pastures in the ranch, with lots of fruit-bearing trees and bushes scattered around. With the amount of rainfall this part of the Island receives regularly, you and your fellow riders will surely be treated to fields so lush and green! In addition to this, as Pa'ani Ranch is a working cattle ranch, you may also be able to see the animals that it keeps and takes care of within their territory. Truly, this change of colors and scenery will make your trip more exciting and unforgettable, especially coming from the usual excursions by and in the waters of Hawaii.
Another great thing about going on Pa'ani Ranch's Paniolo Ride is that it limits each riding tour to only seven horses to ensure that riding groups per trip are kept small and intimate. This means that you and your horse will really be able to ride much freely in the wide open spaces of the ranch, and, more importantly, this also means that your assigned tour guide will be able to properly assist each and everyone of you, as his attention is not divided to so many riders per trip. The tour guides, in fact, are another great thing about Pa'ani Ranch's Paniolo Ride. First, they are skilled and well-experienced paniolos, who have had years of training and experience in horseback riding and horse handling. Also, these paniolos are not only adequately trained, but they are also very knowledgeable about the history of the ranch and as well as that of Big Island and the whole of Hawaii. Thus, during your horseback riding adventure, prepare to be in awe not just by the amazing sights and natural beauty surrounding you, but as well as the fascinating stories and interesting trivia that your guide will share with you! In Pa'ani Ranch's Paniolo Ride, you will definitely get to learn a lot, too!
Just like the Pa'ani Ranch's riding guides, their horses are also very well-trained and reliable. These horses are guaranteed safe to ride, even for beginners and young riders. This is not to say, however, that these horses cannot handle advanced rides! If you are an experienced rider who wishes to trot and canter through the lands of Pa'ani Ranch, don't worry as you are just as welcome. The horses are just as adequately trained for these high-level riding, just make sure to inform your guide about your skill and preference. In this tour, all riding levels and experience are welcome!
The beautiful views, horses, and even the ranch paniolos are all waiting for your visit! Come and have an adventure of a lifetime with Pa'ani Ranch's Paniolo Ride!
Pa'ani Ranch's Paniolo Ride Tour Highlights and Inclusions:
Enjoy safe and guided horseback ride through a 220-acre ranch
Learn about the history and culture of the ranch, Big Island, and even the entirety of Hawaii through the well-experienced and knowledgeable riding guides
Catch sight of breathtaking views at identified spots in the ranch and have plenty of photos taken
Be refreshed by complimentary water, fruit juice, and light snacks
Pa'ani Ranch's Paniolo Ride Special Instructions:
Tour times are at 9:00 AM, 11:00 AM, 1:00 PM, and 3:00 PM. Make sure to check in at least 30 minutes prior to your scheduled tour.
Check in at Pa'ani Ranch, located at 17-7850 North Kulani Road, Keaau, HI.
The following are not allowed to ride:

Children below 8 years old
Riders below 4'6" tall
Riders above 250 pounds
Pregnant women
Those assessed not to be in good physical health

The company may provide free transportation for parties of at least four people within a 30-mile radius from the ranch.
This tour operates daily.
ALL FEES INCLUDED
Operates daily
If booking Friday night, please call for availability.
Reception Plans require 24 hours notice to book.
Please see our Holiday Cruises for Valentines, Easter, Father's Day, July 4th, & New Year's Eve.
Special Instruction
Where and When: Tour times: 9:00 am, 11:00 am, 1:00 pm, 3:00 pm
Check in 30 minutes prior to your tour time at Pa'ani Ranch, 17-7850 North Kulani Road, Keaau, HI 96749 View Map
Restrictions: Riders must be at least 8 years old.
Riders must be at least 4'6″ (137 cm) tall and weigh less than 250 pounds (113 kg).
Riders must be in good physical health and able to follow instructions given by guides. Those with back or neck injuries should consult with their doctor before participating.
Pregnant women may not participate.
Special Notes: Free transportation is available for parties of 4 or more people within a 30 mile radius of Pa'ani Ranch.
Operation Days: Daily
Vendor: Pa'ani Ranch & ATV Adventures
Island: Big Island
Capacity: 5