Immerse yourself in an evening of complete fun featuring Polynesia's spirit, culture, and passion.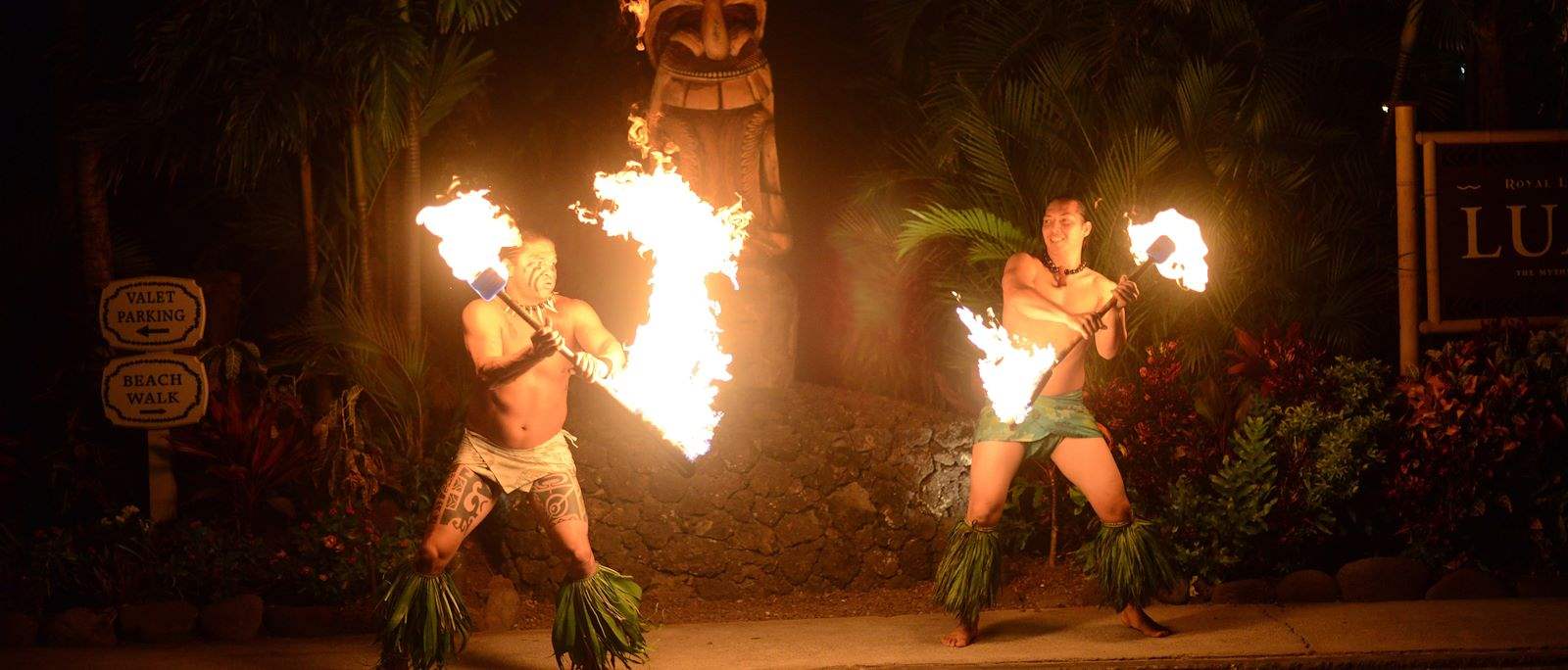 Come and join Royal Lahaina Luau in a one-of-a-kind feast and festivity, bringing you an island vibe like the ancient times through traditional music, dance, colorful costumes, world-class performances, and delicious cuisine!
Held right at the majestic Kaanapali Beach, Royal Lahaina Luau takes you on a Polynesian journey with performances showcasing authentic cultures of Hawaii, Tahiti, New Zealand, and Samoa. With several Hawaiian activities to try, tropical cocktails to drink, and mouthwatering traditional foods to taste, you will surely feel the genuine Aloha spirit.
Luaus generally don't require a strict dress code. The most important thing is you feel comfortable with what you wear during the event. But if you want to get into a real Aloha spirit, you can dress up a bit and wear your most authentic and comfy Aloha outfit! For women, floral skirts with flip-flops, sandals, or slippers are good. As for men, Hawaiian-designed polo shirts and shorts with slippers or sandals are common. 
As soon as you get there, their friendly performers in their vibrant costumes will welcome you with a warm shell lei greeting. After which, you can enjoy your complimentary cocktail right away while you watch the sun dips down the horizon, bringing out incomparable orange, yellow, red, and purple hues. If you feel like being active, you can participate in the lei making or hula lessons. You can even get a temporary tattoo. Did you know that tattooing has been a part of the Polynesian culture? Ancient Polynesians were said to use tattoos on their bodies to express their identity and personality. Often, it would indicate their hierarchical status in the society, genealogy, and sexual maturity.
You will also witness one of the event's highlights – the uncovering of the kalua pig from the underground oven or imu. As you know, kalua pork is the central element and main dish in almost all luaus. As delicious as it is, preparing it is no easy task. In ancient times during festivities, Polynesian men dug a 2 to 4-foot deep round pit with sloping sides or lua early in the morning. Kindling material is placed at the bottom of the hole, then stones on top of the wood. When the kindling is lit, the stones begin to heat. After 2-3 hours of heating, it is now ready to use for cooking the pig.
When it's time for dinner, the roasted pork is shredded and will be served with other delightful dishes, including salads, noodles, seafood, beef, chicken, and desserts. You can also order extra cocktails for a more lively evening mood. When all the plates are clean, sit back, relax and brace yourself for a performance like no other! Be entertained with a Hawaiian hula dance, alluring Tahitian dance, and most especially, a thrilling fire-knife Samoan dance show. Before going home, you can have an opportunity to take pictures with their multi-talented performers for a beautiful souvenir.
Royal Lahaina Luau Packages
GENERAL LUAU: Aloha shell lei greeting, dinner, open bar, and luau show
VIP UPGRADE: Reserved seating area, flower lei for paid ladies and kukui nut lei for paid gentlemen, first set of tables to begin dinner service, and premium open bar selection
SHOW ONLY(currently unavailable until further notice): See the show without the dinner portion. The Show-only package includes an aloha shell lei greeting, open seating (no VIP available), an open bar.
Royal Lahaina Luau Highlights
Authentic Hawaiian luau, located on Kaanapali Beach

Fresh shell lei greeting and cultural performances

Imu ceremony to uncover the kalua pig from the underground oven

Delicious luau buffet dinner and fabulous live entertainment with grand fire-knife dance finale

Island's only keiki buffet

Live Hawaiian music

Free photo opportunities with the talented performers

Open bar (Mai Tai and other tropical cocktails, beer, wine and a variety of non-alcoholic beverages)
COLD ENTREES
Green Salad (V/GF)

Dressing Choices: 1000 Island (V) or Papaya Seed Dressing (V/GF)

Banana Mandarin Macadamia Nut Salad (V/GF): Fruit Salad including Banana, Mandarin Oranges, Coconut Flakes, Macadamia Nuts mixed together with Mayonnaise

Macaroni Salad (V): Combination of Elbow Macaroni Noodles, Mayonnaise, Shredded Carrots, Parsley, Salt and Pepper

Asian Shrimp Salad: Fresh Watercress, Bean Sprouts, Cucumber, Celery, Carrots, Tomato, Bell Pepper, Onions and Shrimp with Oriental Dressing

Cucumber Namasu (V/GF): Tangy Asian Mixture of Cucumber, Carrots, Onions and Rice Vinegar  

Lomi Lomi Salmon (GF): Hawaiian Recipe of Salted Salmon, Onions and Tomatoes

Poi (V/GF): Hawaiian Delicacy, Pounded Taro Root with Water
HOT ENTREES
Pan Fried Noodles (V): Chow Mein Noodles Pan Fried with Onions, Carrots, Celery, Garlic, Chives and Soy Sauce

Fried Rice (V/GF): Rice, Pan Fried with Peas, Carrots, Garlic, Onions and Soy Sauce

Huli Chicken on Veggie Long Rice Noodles (GF): Recipe of Chicken, Veggies and Long Rice Noodles Marinated in an Asian Influenced Sauce and Baked

Sesame Honey Island Fish w/ Spinach and Mango Coconut Sauce (GF): Sesame & Honey Basted Fish Broiled on Spinach, Topped with a Mango Coconut Cream Sauce

Kalua Pork (GF): Roasted Pork Cooked in the Imu, Underground Oven

Teriyaki Beef (GF)
SIDES
Whole Kernel Corn (V/GF)

Hawaiian Sweet Rolls (V)

Molokai Sweet Potato (V/GF): Purple Sweet Potato Variety that is Steamed and Served with Coconut Syrup and Flakes  
KEIKI (CHILDREN) MENU
Chicken Nuggets

Macaroni & Cheese

Hot Dogs

Potato Chips
DESSERTS
Chocolate Cake with Chocolate Frosting (V)

White Cake with White Frosting and Coconut Shavings (V)

Guava Cream Tarts (V): Filling Guava Jam and Vanilla Pudding on a Tart Crust

Haupia (V/GF): Hawaiian Dessert of Gelatin Coconut Pudding
*Note: V=Vegetarian, GF= Gluten-free
Special Needs Menu
Green Salad

1000 Island dressing: Contains garlic, gluten, dairy, egg, mayo, soy

Papaya Dressing: Contains garlic

Oriental Chips: Contains gluten

Kidney Beans

Macaroni Salad: Contains garlic, gluten
Special Needs Menu (Vegetarian, Dairy-free, Gluten-free, Peanut-free)
Green Salad

1000 Island Dressing: Contains garlic, gluten, dairy, egg, mayo, soy

Papaya Dressing: Contains garlic

Oriental Chips: Contains gluten

Kidney Beans

Macaroni Salad: Contains garlic, gluten, dairy, egg, amyo, saoy

Banana Mandarin Salad: Contains mac nuts, garlic, dairy, egg, mayo, soy, cane sugar

Cucumber Namasu: Contains canse sugar

Asian Shrimp Salad: Contains gluten, seafood, shellfish, dairy, egg, soy

Lomi Lomi Salmon: Contains seafood

Authentic Hawaiian Poi

Maui Gold Pineapple

Sweet Dinner Rolls: Contains gluten, dairy, egg, cane sugar

Island-style Fried Rice: Contains garlic, soy

Sweet Whole Kernel Corn: Contains dairy

Pan Fried Noodles: Contains garlic, gluten, egg, soy

Maui Sweet Potato: Contains soy, cane sugar

Huli Chicken with Rice Noodle: Contains garlic, soy, cane sugar

Kalua Pork

Teriyaki Beef: Contains garlic, soy, cane sugar

Sesame Honey Island Fish: Contains garlic, seafood, dairy
KEIKI BUFFET
Chicken Nuggets: Contains garlic, gluten, dairy, egg

Macaroni and Cheese: Contains garlic, gluten, dairy, egg

Hotdogs: Contains garlic, gluten

Hotdog Buns: Contains gluten, dairy, egg

Potato Chips: Contains gluten
DESSERTS
White Cake: Contains gluten, dairy, egg, cane sugar

Chocolate Cake: Contains gluten, dairy, egg, cane sugar

Guava Tarts: Contains gluten, dairy, cane sugar

Haupia: Contains gluten, dairy, cane sugar
Special Instructions
Check-in Location and Time:

Check-in and entry begin at 5:00 pm. Dinner starts at approximately 5:30 – 5:45 pm. The show will start approximately at 6:15 pm – 6:30 pm depending on if all guests are settled at tables.
The location is Oceanfront Luau Gardens at Royal Lahaina Resort.
COVID MEASURES:
➤All payments must be contactless.
➤All guests must wear masks while not seated at their table. Gators, Bandanas & face shields are not approved PPE and will not meet the mask requirements.
➤Any guests experiencing symptoms, feverish, or have a fever are asked to refrain from attending the luau.
➤Seating is Family style with a maximum of 10 guests per table. Larger parties will have to be split between tables. Please no mingling with people who are not in your party.
➤Please maintain social distancing standards from other parties and staff members wherever possible.
➤The buffet will have attendants to serve food to guests.
➤There will be no walk-up bar service. Drinks will be ordered and served at the table.
➤All service staff will wear masks and follow sanitation and safety guidelines. (Performers are not required to wear masks on stage.)
➤Sanitizer stations will be available on luau grounds, and high contact areas are to be sanitized prior to and after each show.
➤Photos with luau performers may be suspended until further notice.
Special Notes:

There is a $5.00 fee per car for parking paid at the gate. Infant pricing (children 5 and under) are provided their own seat and plate for standard seating. Lap children and/or free children are not valid for VIP tickets. If the adults attending have VIP tickets, the child will also need a VIP ticket.
Operations:

Tuesday, Thursday, Friday

Duration:

3 hours

Capacity:

Approximately 500