It's time to get old school. Hiking isn't just an outdoor fitness challenge. It's also imbued with a sense of adventure and discovery that you won't find anywhere else. Start your exploration at Jungle Waterfalls.
Adventurous types only need apply; the moderately strenuous hike will be like nothing you've ever tried before (unless you've hiked in boulders before). Just ask a friend who has done one, and they'll tell you – this is a workout! The trek starts from an elevated bamboo thicket and winds through natural rock obstacles until you reach the falls – two tiers of cascading water over slick surfaces leading to a deep pool perfect for swimming post-hike. Immerse yourself in lush tropical vegetation on Thailand's only waterfall hike. Initially, hike through bamboo thickets to a dirt trail that weaves in and out of a rocky/boulder stream, like switchbacks (involves lava rock-hopping throughout).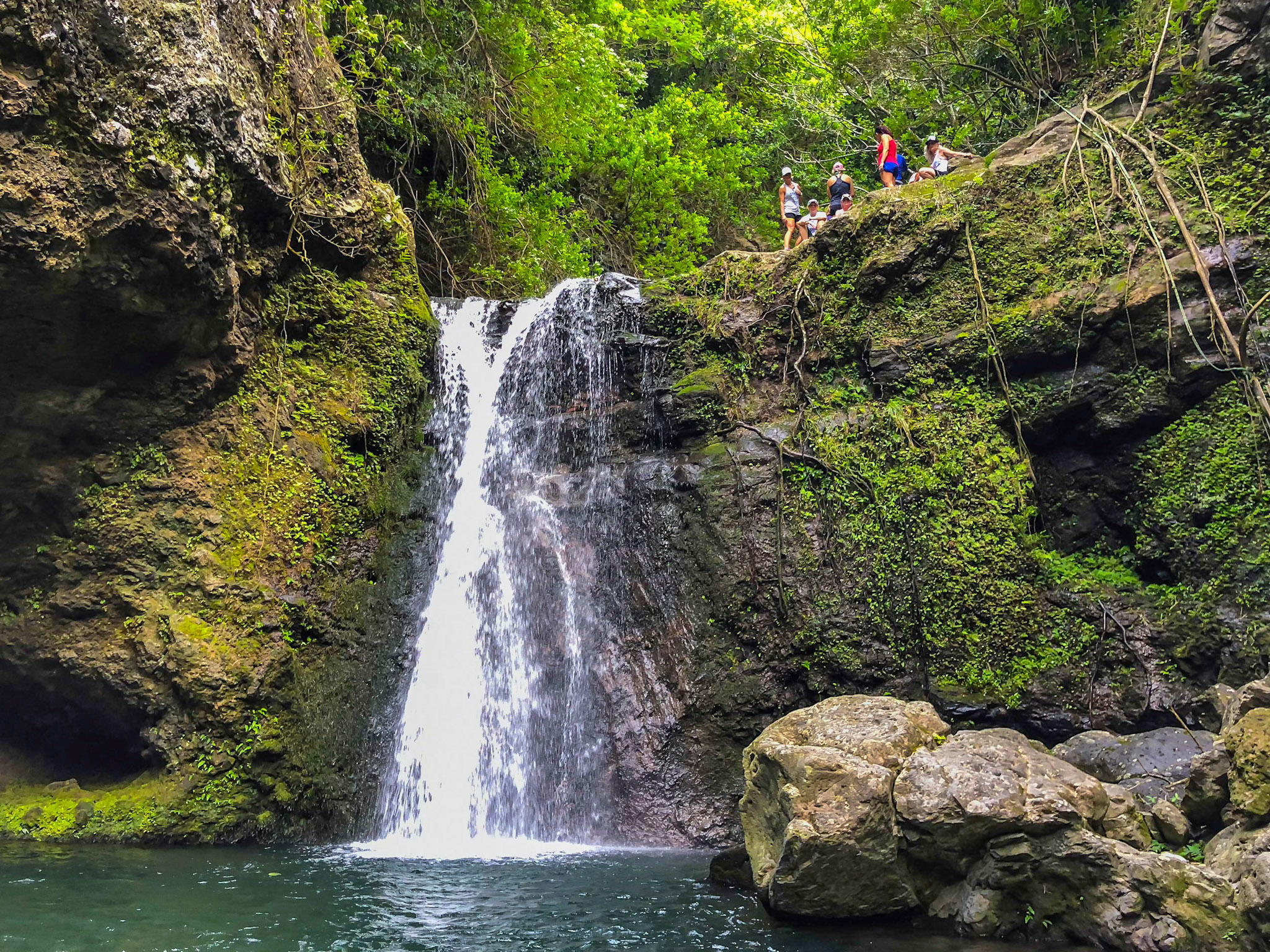 The relaxation continues as the trail winds to an upper two-tier waterfall with a swimming pool. Rappelling the waterfall is optional for clients experienced in this or rock climbing; although not needed, it can be assessed case-by-case by local guides dependent on weather conditions and waterfall flow at all times based on skill set. For those less skilled and content with just experiencing nature's beauty from afar, discover other activities, including kayaking under the falls or embarking on an adventurous trek.
The Jungle Waterfalls Hike is perfect for those looking to experience something exciting and new at the same time. Through bamboo thickets with light climbing through rocks, you will find your way to an incredible waterfall deep in a forgotten jungle! This moderate hike is not for the faint of heart, so please warn any first-time hikers or people prone to serious worry about heights out front. Once you make it through these initial rigorous obstacles, you will be rewarded with two waterfalls and pools (5ft & 10ft deep) that offer all sorts of possibilities, from jumping right in after a hot day on the trail or rope swinging into some refreshing water. This activity isn't limited by imagination.
With crystal clear water, lush surroundings, and the charm of old ruins to lend it beauty – this cascade hike is one you'll never forget. Travel the world and visit pristine, untouched waterfalls of exotic jungle these days with this one-time hike! Wildflowers are in bloom for you to enjoy along the way. Plus, there's a 30-minute swim in some bubbling pool to top it all off – which is just enough time for us to set up our next natural obstacle course adventure. 
You'll leave the city behind as soon as you take that first step, snapping away from smartphone screens and into the embrace of nature. Venture into a world full of sounds made by creatures waiting to meet you:
The rattling call of primal monkeys

The bright whistles of exotic birds

Refreshing crashing waves
Feel every sense come alive when your journey leads you down beside cascading waterfalls that tumble over glossy boulders in unplumbed depths below – pockets for worlds unknown. You'll see it all towering high above on our jungle hike—the perfect escape. Head into the jungle for an evening of swimming and hiking with up-close views of waterfalls that run toward the ocean, set against rugged terrain. 
If tranquil waters surrounded by lush greenery feels like more than you can ask from life, don't worry: Jungle Waterfalls Hike offers accommodations to rejuvenate in massage beds before and after your hike. Cuddle on deck chairs while we serve light snacks as you take in extraordinary scenes through our LED lights or overhead flashlight–you can even take a swim before trekking back to camp!