Maui is paradise, and you're going to want to explore it as soon as possible. Start things off with a Group Stand Up Paddle Lesson! This event will teach you the basics of stand-up paddleboarding while offering some free shave ice for a bonus. The fun isn't over when the lesson is done, though–ask for information on renting boards from Lahaina Surf Shack! From there, unleash your wanderlust upon Maui's shores. Fulfill your dreams of stand-up paddling with Lahaina Surf Shack's experienced instructors! We provide the brand new equipment and a certificate of completion. Being on the water at daybreak is not just peaceful. It's spiritual. This activity will be one to remember for years to come, so book now. There are only limited seats available each month.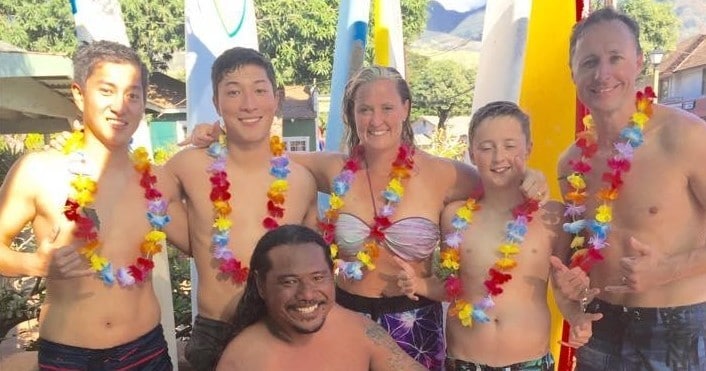 With a private lesson, you'll lay back on an ultra-comfortable padded mat while getting instruction from our highly trained instructors, all under the guidance of Captain Rick, renowned master surfer and instructor extraordinaire. You'll also enjoy two hours underwater exploring the world in your own set of goggles as well as free shave ice at every lesson: a fun and easy way to spend a few hours on vacation. Find your balance as you learn the ins and outs of stand-up paddling with Lahaina Surf Shack, Maui's only surf school. Get a certificate when you're done and get free shave ice too! Rentals are available, so no worries about bringing anything from home. Book now for an iconic experience that will not disappoint.
After a long flight to Honolulu, it's not always the most pleasant to be greeted with the humid Hawaii climate. Take time for yourself in our stand-up paddle lessons. You'll want that balance of humidity as well! Pursuing this Maui self-care is a great way to explore the island. The rental equipment, knowledge, and excellent instructors will help take your vacation from dull and dry to exhilarating and refreshing – all before finding out about that resort fee. 
What's more impressive than a Maui stand-up paddle lesson? Free shave ice at the end of your class to cool down. Lahaina Surf Shack is a family-owned and operated company. For over 25 years, we've been teaching people how to surf, fix boards, help with boat maintenance, and more. We have great instructors that are certified in CPR and First Aid. So if you're looking for a fantastic experience on flat water or big waves with someone who knows what they're doing, you found it.
Get a taste of life in the islands at Lahaina Surf Shack with this Group Stand-up Paddle Lesson Maui, HI. You'll take 2 hours to learn how to stand upright in tall waves on a SUP board with our all-year-round instructors, who are CPR and First Aid certified. It's free shaved ice included. 
Fantastic for families wanting something fun to do together or singles ready for big adventures, this lesson will teach you everything you need for your own time standing on water. Sign up now, and before long, we'll have you paddleboarding like a pro. Grab a group lesson and spend the day on Maui! The crew at the Lahaina Surf Shack will show you how to stand up on water while paddling around. This is the perfect way to learn in an optimum environment, with incredible instructors and unparalleled scenery. Fit for any age or skill level, whether it's your first time or not. Get ready for some carefree fun!