Dwight Quenga will play the ukulele smoothly to ensure a relaxing atmosphere while people enjoy Ocean Vodka and Kula Rum spirits. Kai Kanani's Adventure Sunset Sail provides wine from MauiWine for a post-sunset toast in addition to culinary delights of fresh seafood bounties such as grilled Mahi Mahi, Lobster Bisque and Coconut Panna Cotta. 
Experience the most beautiful time of day in Maui as you sail along with your friends, family, and loved ones. This sunset cocktail cruise is perfect for those who want to sip local spirits while taking in one of the world's most incredible sunsets. You'll also be introduced to some delicious food compliments by a stellar menu from The Market-Maui, including Lelepaipai Taro Chips, Ahi Poke Sliders, Kuleana Bruschetta (smoked mozzarella cheese on tomato bread), and our famous Lavender Liquid Nitrogen Ice Cream.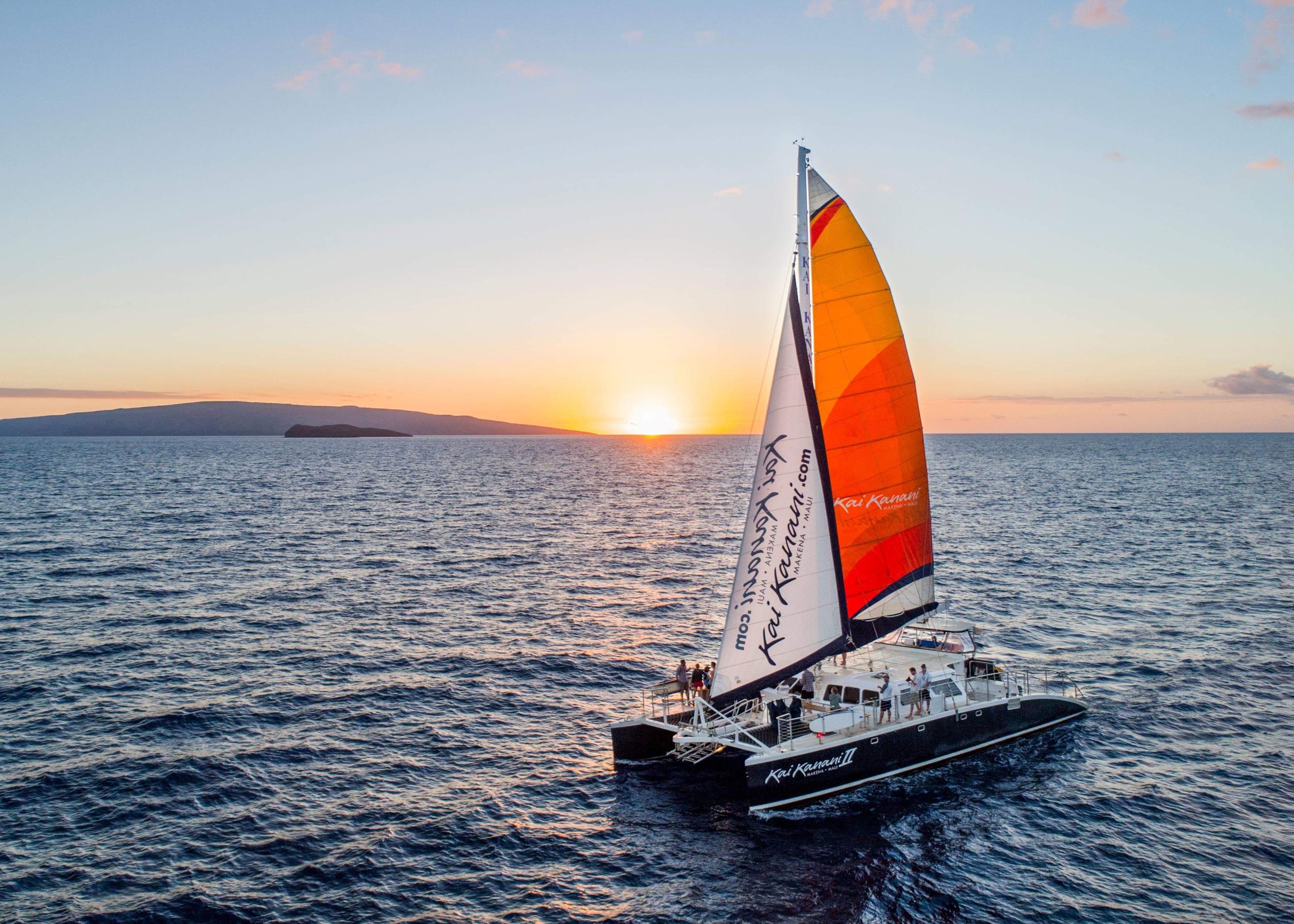 Maui Sunset Cruise Sail Inclusions:
Open bar will offer Ocean Vodka & Red Rock Rum 

Dinner featuring signature appetizers
Imagine: you're on the water, it's dusk, and Molokini is silhouetted across the water. Seas are calm. A gentle wind brushes your skin as Dwight Quenga plays the sweet sounds of Hawaii to set that perfect mood. It's time for cocktails! Put those worries away and enjoy one of MauiWine Company's best sellers or try out some pineapple vodka from Ocean Vodka.
If you end up liking our delicious food too, we have an excellent chef who'll whip up something special for you with a vast range of ingredients brought together by The Market-Maui staff at Wailea. The smooth ukulele stylings of Dwight Quenga, a stellar menu from Wailea's own The Market-Maui, and an open bar full of local spirits such as Ocean Vodka and Kula Rum, as well as wine from Ulupalakua's MauiWine. At sunset, we pour the award-winning Lokelani Sparkling Rosé for a sunset toast.
Be whisked away to Hawaii for the day with a two-hour sail that includes music, drink, and ambiance as you enjoy an evening on Maui's best boat. Bring your friends and loved ones for this once-in-a-lifetime experience.
Tap into our immersive sailing experience to see the islands up close and personal before they slip back into the horizon line like waves lapping at Molokini. The crew will serve plates of tasty foods from our sponsor farms around Maui, including Ulupalakua Vineyards (Ulu) and The Market-Maui (Taima). Kai Kanani's Adventure Sunset Sail is a two-hour sail featuring excellent sailing, ukulele stylings, and an open bar complete with local companies. At sunset, enjoy the award-winning Lokelani Sparkling Rosé for a toast. Maui has you covered from start to finish during this rewind to get back in touch with your adventure spirit. It's Maui time.
Ready to leave the office behind for a minute and do some sailing? Maui's best sunsets await—come sail with us on Wednesday, February 9th! Kai Kanani will lead this little after-work getaway, including two hours at sea, an open bar with local fare, and a glass of Lokelani Sparkling Rosé. At sunset, we pour it up to appreciate that beautiful Hawaiian sky-o-landscape. It's an experience worth sharing with friends, family, and loved ones.