Whether you are a huge animal lover, an avid nature enthusiast, or just one who would like to make the most of your trip to Hawaii, Ko Olina Ocean Adventures' Oahu Snorkeling and Dolphin Encounter is the perfect tour package for you.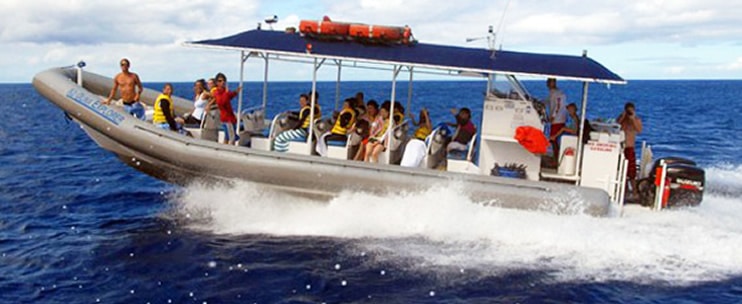 This tour offers a no-fuss, up-close encounter with precious sea creatures, many of which are endemic to the island, plus a remarkable sightseeing experience of Oahu's well-maintained underwater topography. Truly, this is a tour for those who wish to be one with nature, and, more importantly, to level up their getaway to the Hawaiian islands!
For this tour, Ko Olina Ocean Adventures will identify two perfect snorkeling locations, depending on the time of the year of your visit and, of course, the weather and water conditions at that time. You will be taken on a relaxing cruise along Oahu's breathtaking west coast, where you and your companions are to sit back, relax, and relish the sights and the breeze, while anticipating the exhilarating snorkel adventure that is about to happen!
In the first location, you will get a chance to see spinner dolphins, a huge number of which inhabit Oahu's seas. You will certainly enjoy watching these creatures' energy and playfulness from the boat, but you can choose to have an even more enjoyable time by actually swimming with them, which Ko Olina Ocean Adventures also offers. The crew members will gladly assist you into your snorkel gear, which is inclusive of the price you will pay for the package tour. Here, prepare to catch sight of these friendly dolphins in their natural environment and the stunning views underwater! This includes unblemished coral reefs and all those colorful tropical fish down below–truly a magnificent sight to behold!
At the next stop, the star of the show is the Hawaiian green sea turtle! Oahu's Turtle Town, as can be gleaned from its name, is home to many green sea turtles, as well as many other marine organisms that frequent the area. Similar to the first stop, this prime snorkel location promises sights that will leave you awestruck and wanting more!
This is definitely a tour package that you just can't miss out on. Go and have a spectacular time sightseeing and swimming with Hawaii's lovely sea creatures by booking Ko Olina Ocean Adventures' Oahu Snorkeling and Dolphin Encounter!
Tour Highlights:
Cruise along Oahu's west coast

Snorkel at two identified locations in the area

See the stunning coral reef and other marine life underwater

View and swim with Hawaiian spinner dolphins and other tropical fish

Watch sea turtles at Oahu's Turtle Town

Go on a whale encounter with hydrophones, if in season
Tour Inclusions:
Ko Olina Ocean Adventures' Oahu Snorkeling and Dolphin Encounter is inclusive of the following: 
Clean bathroom on board

Protective life vests

Complete snorkel gear

Breakfast muffins and beverages (coffee, tea, and cocoa)

Hawaiian-style lunch

Transportation to and from Waikiki
Special Instructions:
Choose from the following tour times:
Morning tour: 7:00 AM – 10:30 AM

Mid-day tour: 11:30 AM – 3:00 PM

For the morning tour, check-in time is at 6:15 AM. For the mid-day tour, check-in time is at 10:45 AM. Make sure to be on time as the tour will leave promptly at 7:00 or 11:30.

Check in at 92-100 Waipahe Place, Kapolei, HI 96707. The check-in desk is located inside the Marina Store.

While bottled water will be provided on board, you are free to bring your own beverages and snacks. An ice chest is available on the boat for your refreshments.

This tour operates daily.

Tour duration is approximately 3.5 hours.