If ever you're in Big Island, a Kahua Ranch Sunset Dinner is one of the best ways to end your day's adventure.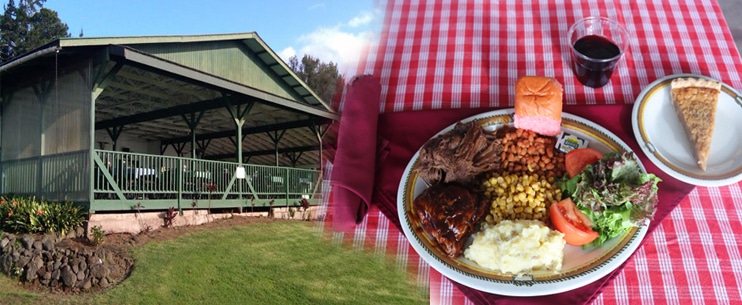 After hitting the sun-kissed and white sandy beaches, get calm and relax at an upcountry ranch with a sumptuous dinner and refreshing beverages under the sunset. 
Whether you are with your small kids, colleagues, friends, partners, or a solitary wanderer, let the scenery of lush rolling hills, 3, 200 feet above the Pacific Ocean mesmerize you. And at the same time, party in a country-style way with campfire sing-along, live country music, and line dances. After that, learn to rope, pitch horseshoes, and brand a shingle to take home! Finish your ranch experience with fascinating stargazing. So, buy your tickets now, saddle up and enjoy a one-of-a-kind ranch adventure.
What to Expect?
Upon arrival, you will be welcomed and greeted by a family member and invited to an open campfire, where you will hear the history of Kahua Ranch. You will be served with beverages right away as a refreshment. Kahua is a Hawaiian word, which means "foundation" or "source." 
It is located in Waimea (Kamuela), which is the biggest town in the northern part of Big Island. The ranch is family-owned, and its main house is over a hundred years old. Lying in the Kohala mountains at 3,200 feet above sea level, the climate is a reminder of the Scottish Highlands' temperature that is lower compared to the other parts of the island. So, we hope you don't forget to bring a sweater because it's chilly up there. 
When dinner's ready, it's time to indulge in a buffet-style dinner, including BBQ beef, chicken, fresh greens, among others. You will also enjoy a delicious macadamia nut pie as a dessert. While eating, a live country-western song plays in the background by a talented performer with his guitar, to make you feel the country mood better. To spice up the evening more, an open bar is available serving Kona brew beer and white and red wine, which are included in your tour fee! You can also order other non-alcoholic drinks (which are also unlimited), such as juice, soda, coffee, tea, hot chocolate and bottled water.
After dinner, it's time to get a first-hand ranching experience! Let your kids learn how to lasso calves or horses, brand shingles (which you could take home) and pitch horseshoes, while you are dancing the line dance in the beat of live country music. While you are having fun, the attentive staff moves around to pour your cup with beverages, so it's never empty. Make s' mores in the campfire as you used to when you were a child. Show your kids it's not only made in the oven or microwave. 
Also, you can sing-a-along in the campfire and belt it out. On top of these, remember to take beautiful photos of the sunset, as well as the breathtaking vistas and views of the ranch. 
The Kahua Ranch is also perfect for corporate meetings and team building. Or maybe a wedding venue? With its fresh air and lush green grasses on a massive land on a high elevation, who doesn't fall in love with this place? Moreover, it is an ideal backdrop for filming movies or TV shows.
After the sun sets down and the dusk takes over, you could view the stars with a telescope or just sit down on the grass with your significant others and enjoy a moment of unforgettable stargazing.
EVENING HIGHLIGHTS:
Have a fun adventure with an award-winning sunset dinner at a beautiful Big Island ranch

Line dancing with paniolo music in the background

Roping mini-lessons

Branding shingles (cedar) and take it home

Stargazing with your significant others

Pitch horseshoes or play corn hole with other guests

Make s'mores in a campfire

Enjoy a campfire sing-a-long

Enjoy a laid-back party with unlimited beverages
BUFFET-STYLE DINNER MENU:
Smokehouse Beef BBQ 

Chicken

Creamy Garlic Mashed Potatoes

Corn

Ranch-Style Baked Beans

Fresh, Organic Greens

Authentic Hawaiian Bread with Butter

Delicious Macadamia Nut Pie
Know Before Booking:
The duration of the whole event is 3 hours, from 5:30 pm – 8:30 pm and operates on Wednesdays.

There is roundtrip transportation from Kona side hotels (with additional fee). Transportation is also available for guests staying at the Sheraton areas. There are 6 pick-up locations between the Kamehaha Hotel and Sheraton. Whereas, pick-up locations are also available in the Waikoloa area (usually at the Marriott, Hilton, Paniolo, and Kings Shops). 
*Due to seasonal changes, exact time and locations for pick-up will be emailed to you, along with your confirmation. But usually, in summer, it is around 4:00 pm while winter pick-up time begins at around 3:30 pm.
Check-in is at 5:15 pm at 59-564 Kohala Mountain Rd, Waimea.

If you're driving, head to Highway 19, North to Waimea. Before reaching the town, you will see a fork. From there, turn left into Rt 250. You can see HPA School on the right. Then climb to 11 MM and slow down, where you drive to 11.6 MM. Look for the little white shack with a green roof. You can see "K" and black horses on the shack. Turn right towards Kahua Ranch. 
*Please note to Stay LEFT at every opportunity and always go to the end. 
The parking lot is in the gravelled area (approx. 1.5 hours from Kona and 45 minutes from Waikoloa).

For guests driving, there must be a designated driver because there is an open bar at the event.