Established in the 1950s,

Inter-Island Sportfishing

is one of the longest running fishing tour operators in Oahu Island.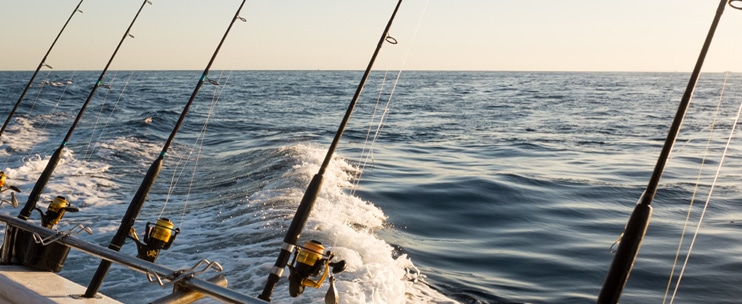 It has different deep sea fishing package tours, which are usually done through booking one of its private charters. However, if you are not able to form at least a group of six people for a private charter, this is no problem as Inter-Island Sportfishing offers shared fishing trips, too! Book one and have a great time with fellow travellers as you go on a fun deep sea fishing escapade!
Founded by ocean-lovers John and Ed DeRego, Inter-Island Sportfishing began with just one fishing charter for hire, the Stella Maris. As one of the long-standing fail-safe tour operators in Oahu, however, Inter-Island Sportfishing has now upgraded its fleet to a number of tour boats, which you can ride on on your shared sportfishing trip!
One of Inter-Island Sportfishing's boats is the Maggie Joe, a 53' Custom Sportfisher, which guarantees a smooth and stable ride in the waters of Oahu. Designed by the DeRegos themselves, the Maggie Joe's best feature is the spacious fishing deck and the engine room. As John and Ed envisioned a fishing boat that has plenty of room on the back deck for guests on-board to fully enjoy the water activities, the Maggie Joe now in fact has one of the largest fly bridges of any sport fisher boats on Oahu Island! The engine room is similarly spacious, with captains able to walk around both engines with complete access to all equipment. The Maggie Joe is USCG-certified, and can take up to 25 passengers. Going on a shared sportfishing adventure would surely be awesome on the Maggie Joe!
Besides the Maggie Joe, another fishing boat available for shared charters is Inter-Island Sportfishing's Sea Hawk. A bit smaller than the former, the Sea Hawk is a 40' Tollycraft built in Washington. It was completely remodeled in 2001 with fresh Cat 3116 diesels, for a safer and more stable boat ride to your destination. In 2018, the Sea Hawk was once again improved, this time with a new paint job and custom interior. With all these upgrades, a cruise on the Sea Hawk is something you and your other companions will definitely enjoy!
Whichever sportfishing boat you board, you will certainly have a fun and worry-free shared fishing trip with Inter-Island Sportfishing, as all its vessels are well-equipped with everything that you need for a memorable deep sea fishing.  On all boats are GPS, fishfinders, plotters, and communication devices, as well as exceptional Penn and Shimano fishing gear, and bait and ice. Besides the equipment, the staff and crew themselves are remarkable, too! They are not only sportfishing experts, they are very friendly people, too, so even if you're on a shared trip, it will feel like you're in the company of persons whom you've known since. 
Go and book your shared sportfishing trip with Inter-Island Sportfishing! It has been in the business for so long; its excellent reputation, services, and equipment are definitely what you need for that exciting deep sea fishing adventure. 
Inter-Island Sportfishing's Maggie Joe
A 53' Custom Sportfisher that is equipped with:
GPS chart plotters

Fish finders

Radios

Fishing gear (Fenwick poles, Shimano and Penn reels, bait, and ice)

Murray Brothers fighting chair

Spacious fishing deck and engine room
Inter-Island Sportfishing's Sea Hawk
A 40' Tollycraft that is equipped with:
Air-conditioning

Customized interior

Wide shaded bridge

Penn and Shimano fishing gear

GPS, fishfinder, plotter, cellular phone, and radios
Inter-Island Sportfishing Special Instructions
Check in at Kewalo Basin Harbor, located at 1125 Ala Moana Blvd., Honolulu HI 96814.

The boat departs at exactly 6:00AM, so make sure to check in before then.

Choose from the following tour durations:

Full-day (8-9 hours)

Half-day (4-5 hours)

All equipment, bait, and ice will be provided. Guests are allowed to bring snacks and drinks.

Guests can keep half of the fish caught that are under 100 pounds.