If you are searching for a convenient tour package that departs directly from Hanalei and then brings you straight to the scenic coast of Na Pali, look no further as Holo Holo Charters' Na Pali Exploration and Snorkel is exactly that.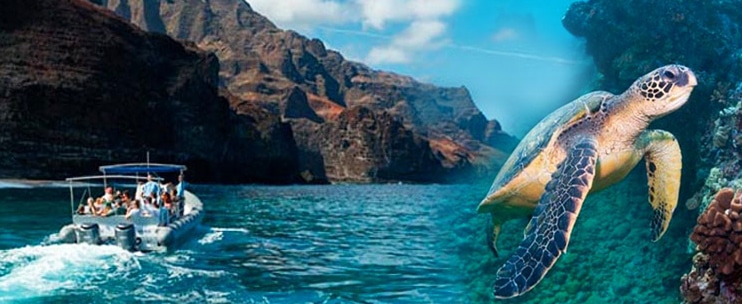 Bringing its guests from Kauai's north shore to one of Kauai's top-rated destinations for some exciting ocean adventure called Na Pali Coast, this is a seasonal tour that operates only from April to October. Thus, if you are travelling within these dates, then this tour package is definitely something you should not miss out on!
Holo Holo Charters' Na Pali Exploration and Snorkel utilizes the Adventurer, a high-speed rigid-hull inflatable boat that is powered by twin engines for that smooth and accelerated ride to the north. Depending on the captain's assessment of the water and weather conditions on the day of your tour, you will be taken to some of North Shore's amazing locations such as Queen's Bath, Anini Beach, and Kilauea Lighthouse, just to name a few! Of course, on the itinerary also are the majestic emerald-hued sea cliffs, beautiful beaches and sea caves, waterfalls and lush valleys that Na Pali Coast is very much known for. Without a doubt, these sights, accompanied by the fascinating stories of Holo Holo Charters' expert staff and crew, will take your breath away!
As promised, Holo Holo Charters' Na Pali Exploration and Snorkel is not only an above-the-surface excursion, it also features a sightseeing adventure down under! With waters so clean and pristine, you will delightfully get a glimpse of Kauai's untainted reefs and formations, as well as its diverse marine life. 
Keep an eye out for a variety of different sea creatures such as green sea turtles, dolphins, reef fish, and more! Sights that you thought you would only see on nature shows and science books, Na Pali Coast's underwater features are a marvelous spectacle.
Definitely, Holo Holo Charters' Na Pali Exploration and Snorkel (Hanalei Departure) is a once-in-a-lifetime adventure and opportunity that you should not pass up on. Go and make your reservations now before slots get full!
Tour Highlights
Go on a sightseeing cruise from Hanalei Bay to Na Pali Coast

Cruise and snorkel at Na Pali Coast, a top-rated tourist spot located at Kauai's northwestern tip

Be provided with an instructive pre-dive briefing and snorkeling equipment (Feel free to bring your own gear!)

Get an up-close encounter with Kauai's abundant sea life
Tour Inclusions
Holo Holo Charters' Na Pali Exploration and Snorkel (Hanalei Departure) is inclusive of the following:
High quality snorkeling equipment and dry bags

Pre-dive briefing and safety instructions

An up close encounter with Kauai's marine life

A delicious deli-style lunch by Tahiti Nui Restaurant
Deli Lunch Menu
A deli sandwich of your choice with brioche bun or gluten-free bread as buns:

Turkey sandwich with cheddar cheese, lettuce, red onion, and cucumber slices

Ham sandwich with swiss cheese, lettuce, and tomato

Veggie sandwich with lettuce, carrot, cucumber, red onion, and avocado slices

Different sauces (mayonnaise, mustard, hummus, or aioli dip)

An assortment of sides such as chips and Kauai cookies
NOTE: Food options are subject to change without prior notice. Holo Holo Charters also reserves the right to amend tour inclusions in light of the COVID-19 safety measures and protocols in place at the time of the tour.
Special Instructions
Check-in time is 7:00 or 7:30 AM. Make sure to arrive at least 10 minutes before the specified time is the tour will depart promptly as scheduled.

Check in at Tahiti Nui Restaurant in Hanalei. From this point, guests will be shuttled to Hanalei Pavilion, which is approximately just a mile from Tahiti Nui. Here, guests will be escorted to Hanalei Pier, where footwear will be removed to prepare the guests for boarding Holo Holo Charters' dinghy, which will then transport them to the vessel moored on the bay.

The following are the requirements and restrictions to join the tour:

Guests must at least be 6 years old.

All guests must be able to assist themselves onto the tour vessel. 

Prior to boarding, guests will need to remove their footwear, as all Holo Holo Charters tours are done barefoot.

Full-face snorkel masks are not allowed for health and safety reasons.

All swimmers and snorkelers must be able to comfortably swim in open water. Non-swimmers will not be allowed to partake of the in-water activity of this tour.

This tour is not recommended for pregnant women, those with back problems, those who have had recent injuries and surgeries, and those who suffer from severe motion-sickness. 

For those with health concerns but are nonetheless safe to join, make sure to bring your prescribed medication with you. This goes for people with seasickness, too.

This tour requires the use of reef-safe non-aerosol sunscreens. 

No smoking on board.

No drones or any unmanned aircraft on board.

Expect to get wet on this high-speed raft tour, with light rain showers which are common on Na Pali Coast. Make sure to dress accordingly.

This tour operates from Monday to Saturday from April to October only.

Tour duration is approximately 5.5 hours. Tour is set to return to Hanalei at around 12:00 to 12:30 in the afternoon.