Known as "honu" in the Hawaiian local language, the green sea turtle is a popular creature to catch sight of and get up close with when swimming in the waters of Hawaii.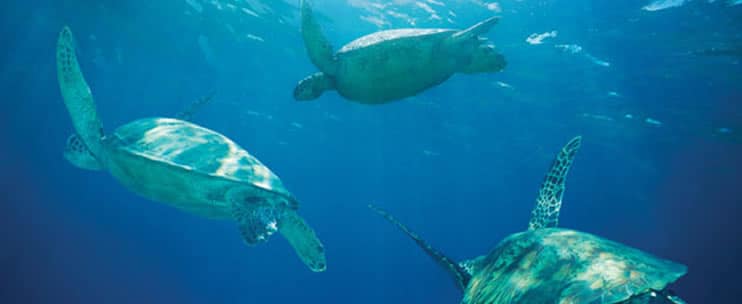 Not only are Hawaiian green sea turtles abundant in Hawaii's seas, but they possess truly beautiful symbolic meanings, too! In Hawaiian tradition and culture, this precious animal symbolizes good luck, endurance, guidance, and even long life. Fortunately for you, you get to have guaranteed turtle sightings and have some of this good omen with Hawaii Nautical's Turtle Waikiki Snorkel Sail! Yes, you read that right–Here, turtle sightings are guaranteed, or you get to sail again for free. How awesome is that?
Hawaii Nautical's Turtle Waikiki Snorkel Sail utilizes the Honu Lani, a high-powered 65-foot sailing catamaran that can accommodate up to 80 passengers. The Honu Lani is equipped with comfortable indoor and outdoor seats good for everyone on board, as well as two restrooms and a spacious viewing deck. Definitely, just by coming aboard this topnotch sailing catamaran is already a treat on its own, giving you the most relaxing and comfortable boat cruise to the tour's designated snorkel site!
Upon arrival at the snorkel site, your underwater adventure shall promptly begin! At this point, you will most probably be so excited already to go into the water and swim with the turtles, but of course, Hawaii Nautical must ensure first that you are well equipped with the proper gear and snorkeling tips and fundamentals. Hawaii Nautical's helpful and experienced crew will be providing you with the fins, vests, and the insightful tips, all for everyone's utmost safety, comfort, and enjoyment. Thereafter, it's time to swim and explore! Prepare to see those sea turtles swimming freely in the crystal clear seas, apart from many other marine organisms that are teeming in the area. Again, with Hawaii Nautical's Turtle Waikiki Snorkel Sail, turtle sightings are 100% guaranteed! In the unlikely event that you don't get to see and swim with Hawaii's beloved honu, your return is free–that's how Hawaii Nautical values customer satisfaction. 
This tour is also inclusive of a delicious picnic lunch, which is yet another indication of how Hawaii Nautical prioritizes customer service and satisfaction. In its Turtle Waikiki Snorkel Sail, not only will you be treated to the best marine life encounter, but you will also be treated to some scrumptious wraps and sides. Truly, Hawaii Nautical promises a fantastic time on board, in the sea, and with the most precious Oahu sea creatures in this awesome tour package!
Tour Inclusions:
Hawaii Nautical's Turtle Waikiki Snorkel Sail is inclusive of the following:
A delicious picnic lunch

Refreshing drinks

Fins and vests *
* This tour has a bring-your-own snorkel and mask policy. If you failed to bring your own or rent before going on-board, you may purchase snorkel mask sets on the boat at $22.95 for each adult set and $19.95 for the kids' set, plus taxes. Prices are subject to change without notice.
Lunch Menu:
Note: For COVID-19 safety measures, the information below is subject to adjustments/changes.
Turkey pesto wrap

Vegetarian pesto wrap

Gluten-free lettuce wrap **
** All wraps are served with chips on the side.
Special Instructions:
This tour departs from Kewalo Basin Harbor, located at 1125 Ala Moana Blvd., Honolulu, HI 96814.

This is a three-hour tour, which departs at exactly 11:00 AM and returns approximately at 2:00 PM. 

Make sure to check in at least 20 minutes prior to departure.

All participants are expected to complete an online Health Clearance Form 24 hours before the tour and before departing from the hotel. 

Throughout the tour, guests will be asked to wear face masks as part of the COVID-19 safety measures of the company and the island.

This tour operates daily, except on Thanksgiving and Christmas.

For the FREE TURTLE RE-RIDE, there is no option for a refund. The only option you can avail is a re-ride (1 free return trip for every 1 paid trip with no turtle sighting).