If you are visiting Oahu, Germaine's Luau is a must-try along with other outdoor activities you have already planned. The Hawaiian luau is a festive experience, showcasing not only Hawaii's cultures, history, traditions, and stories, but also the greater Polynesia.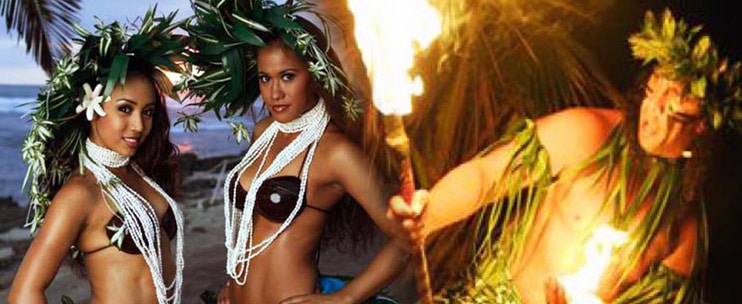 It includes feasting of the Kalua pig that is slowly cooked in an imu or underground oven. Did you know that luau was once called 'aha'aina or "gathering meal?" Before 1819, women were not allowed to dine with men as well as partake in several foods. Luckily, King Kamehameha II abolished all religious laws that were originally practiced. 
Held on a breathtaking private beach on Oahu's Southwestern Shore near Barbers Point Lighthouse under the stars and palm trees, Germaine's Luau is one of the most popular luaus among tourists and locals. It presents Hawaii's beautiful tradition and other Pacific Island nations, including Samoa, New Zealand, Tonga, and Tahiti.
All ages can participate in this laid-back, backyard-style festivity, even your infants and grandparents. You may wear your most fashionable Aloha outfit, along with your sandals or flip-flops though it is not necessary. After-checking-in, some friendly staff on their colorful Aloha outfits will welcome you with a lei greeting and lead you to the luau grounds. You know the program begins when you hear the sound of a conch shell, which is just one of the many varieties of shells that you can find in the land of Aloha. 
Before your eat-all-you-can buffet, you will enjoy some pre-meal activities and entertainment and witness the imu ceremony, which shows how the kalua pig is cooked to perfection in an imu or underground oven. Here's a little trivia: In ancient times, Hawaiian women were forbidden to eat pork under ai kapu law. 
You can grab unlimited drinks from the bar, one is complimentary depending on your package, and you will then start feasting on your dinner. It includes American-Hawaiian delicacies like lomi lomi salmon, deep-fried mahi-mahi, and of course the roasted pig, and some desserts, including macaroni salad, fruit salad, and haupia pudding. 
While you enjoy your meal, you will be entertained by the Hukilau Hula dancers as they perform the Samoan slap dance and the fire-knife dance. Fire-knife dance is a Samoan cultural exhibition that is performed on ceremonial dances. Observe the knife wrapped in towels on both ends with a portion of the blade exposed in the middle. The performer dances while twirling the knife, doing some acrobatic stunts, and then the towels are set on fire. You can also watch the Tahitian dance and the famous Hawaiian hula dance.
You conclude your evening feeling the warm tropical wind with a beautiful beach view in the background, as the stars take over the skies before you are dropped off at your hotel if you select this option.
Luau Highlights:
Eat-all-you-can American-Hawaiian buffet

Laid-back style luau on Oahu's Southwest Shore

Polynesian show and entertainment, showcasing Hawaii and other Pacific Island nation's cultures and traditions

Witness the uncovering of the kalua pig from the imu during the imu ceremony
Germaine's Luau Menu: (Subject to change without prior notice)
Kalua Pig (Roasted Pig)

Poi (Taro Potato)

Sweet Dinner Rolls

Lomi Lomi Salmon

Haupia (Coconut Pudding)

Sauteed Island Fish (w/ Sweet Chili Tartar Sauce)

White Rice

Fresh Pineapple

Vanilla Coconut Cake

Hawaiian Pulehu Chicken

Fresh Fruit Salad

Tossed Green Salad

Potato/Macaroni Salad



*Note: Vegetarian option is available. Dinner will be served on your tables to maintain physical distancing as a Covid-19 measure.
Beverages (Subject to change or limitation during Covid-19): Mai Tai, Standard Bar Drinks, Blue Hawaii, Premium Bar, Domestic and Import Beers,Tea, Pina Colada, Germaine's Special, Softdrinks, Kona Coffee, Decaffeinated Coffee
Packages
ORIGINAL LUAU PACKAGE: The Original Luau package includes non-reserved open seating, lei greeting, buffet dinner, and 1 Standard cocktail drink ticket for adults.
PLUMERIA LUAU PACKAGE: The Plumeria Luau Package includes a lei greeting, buffet dinner with hostess table service to bring guests food, premier area seating, 3 beverage coupons, and each adult will receive their photo taken with a Polynesian greeter upon arrival and a souvenir photo booklet. (For social distancing the Plumeria section has been extended into the front area of the Hibiscus section that is currently unavailable due to reduced luau capacity for covid measures).
Special Instructions
Location and Time:

Gates open at 5:30 pm. The address is 91-119 Olai St., Kapolei, HI 96707.
*The guest parking lot opens at 5:15 pm.
DIRECTIONS: If you're driving from Waikiki, take the H-1 Freeway West. Follow signs to Waianae. Leave Freeway on Exit #1 (Campbell Industrial Park), which loops over the freeway and proceed towards the ocean on Kalaeloa Blvd. Follow to the end and take a right on Olai Street. The estimated drive time to Germaine's Luau from Waikiki is one hour.
COVID PRECAUTIONS:
➤Group seating is limited to no more than 5 people seated together at a table. Larger groups will be socially distanced with nearby seating.
➤Masks must be worn at all times except when eating or drinking. Guests under 2 or those with medical conditions that prohibit them from wearing a mask may be exempted.
➤Guests will be table-served, with additional food portions served upon request.
➤Guests who present with any of the following may be denied entry and directed to return to where they are staying or getting medical assistance: fever, chills, a new cough, shortness of breath, difficulty breathing, a recent sore throat, recent muscle aches, recent headache, recent loss of smell or taste or anyone who has had close contact with someone who has tested positive in the last 72 hours.
*Note: Infant pricing for children 3 years old and under. They will be allowed to have their own east and plate.
Operations:

Closed on Mondays, Wednesdays, Fridays & Sundays.

Duration:

Approximately 3.5 hours

Maximum Capacity:

Around 239 guests during Covid; without Covid, the maximum is 800+.