When guests say, "The most epic experience ever!" you know it's a real thing!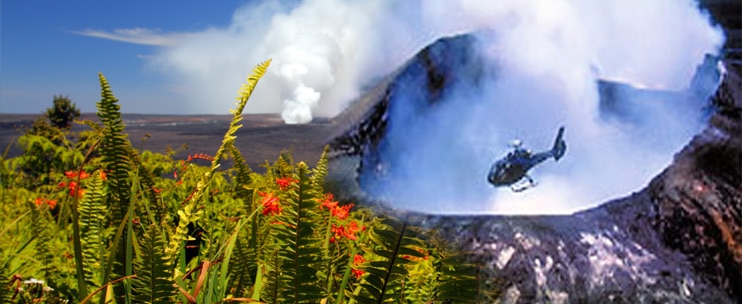 Book your tickets now for a 40-minute doors-off aerial ride flying above Big Island's lava and lush rainforests. 
Unlike other Paradise Helicopters' air tours, the Doors off Lava & Rainforest Adventure lets you see the most stunning sceneries on the island with a helicopter without doors! We know what you're thinking. But with their Hughes 500 helicopter, your safety is ensured. Plus, your experienced pilot and friendly crew make it their priority, along with your 100% satisfaction.
Your transportation picks you up from your hotel or resort and takes you to the Hilo Airport, where your ride is waiting. Before booking, you can specify your preferences if you already have a ride going to the airport. Anyways, this information will be emailed to you after booking. You will be assured that everything from booking to taking you home is being taken care of. Of course, we will remind you to prepare your camera. Empty its storage because we know you can't help but take a lot of pictures on your trip.
Your first stop is the Kilauea volcano – the most active on earth. Did you know that from 1938, it had continuously erupted until recently in 2018? That's right! For more than 30 years, it has unendingly exploded lava, which caused an economic toll on the island. On the contrary, it also left jaw-dropping sights that locals and visitors alike enjoy! On this trip, you will witness Kilauea's activity after years of being active. You will see what's left after all these years. According to experts, no predicted explosions are about to occur in the near future, but nobody knows. 
Though you are not able to see lava flowing, you will witness an amazing 8-mile river of frozen lava from Fissure 8 to the Pacific Ocean! Also, you can also view the newest black sand beaches and massive craters caused by these recent events. If this black sand evokes your curiosity, here's another fact for you: They were formed when hot lava hits the cold Pacific Ocean water, shattering and breaking into pieces of grains and black sand. On the other hand, these enormous craters were formed through the sinking of the earth's surface during eruptions.
Along the way, look down at Mauna Loa's sceneries, also an active volcano on the island. Mauna Loa or "Long Mountain," encircles more than half of the whole island. So, you will see wind-swept summits, sometimes covered in snow, lava-laden shorelines of South Kona, Kau, and Puako. It is no wonder Big Island accommodates a huge number of visitors per year.
With no doors to obstruct your enjoyment, feast your eyes on these breathtaking natural beauties while capturing their best moments!
TOUR HIGHLIGHTS:
45-minute comfortable doors-off helicopter tour adventure for the best viewing experience

Like Travel Channel names it, it is the "Hottest helicopter ride on earth"

Soar over the Big Island's Kilauea Volcano and its current activity after 35 years of being active

Witness Hilo's natural postcard-like beauty and the nearby rainforests and waterfalls

Many great photo opportunities

Fully-narrated helicopter tour by a knowledgeable guide

Two-way communication, which allows you to speak directly with your pilot