With the diverse and abundant marine life in Kona, it would definitely be a waste if you do not get the chance to go deep sea fishing during your vacation in Big Island.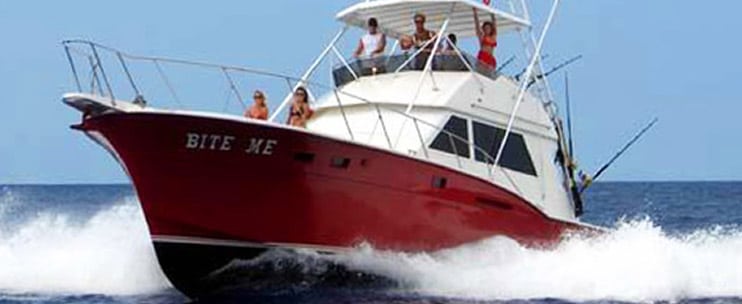 It is not everyday that you get to be in a spot hailed as a mecca for fishing, so make sure to take advantage of your trip by experiencing Kona deep sea fishing! Bite Me Sportfishing, with its different charters, can take you to a fun-filled day catching some big game fish, just like the Bite Me 2 tour!
Over the years of its exceptional tour services, Bite Me Sportfishing has acquired and maintained a number of fishing charters, the biggest of which is the Bite Me 2. The Bite Me 2 is a 46' Hatteras, ideal for larger groups looking to go on a sportfishing adventure in Kona. Powered with two 550HP Detroit Diesel engines, the Bite Me 2 gives its passengers a smooth and stable ride on the waters of Kona, en route to the coast's finest fishing grounds. Of course, with a capacity so big, the Bite Me 2 is furnished with state-of-the-art amenities, too!
 It has an air-conditioned cabin and even sleeping quarters, comfortable leather couches, and kitchen facilities such as a refrigerator, microwave, and a coffee maker. It also has a shaded top deck and a large tuna tower, not only great for locating fish but for sightseeing as well! On board the Bite Me 2, pleasure starts immediately upon departure!
Just like all of the fishing charters of Bite Me Sportfishing, the Bite Me 2 is well-equipped with complete fishing tools in top condition. No need to bring rods, reels, tackles, and baits, as everything will be provided on board. With its great fishing gear, be ready to catch some big game fish such as Yellowfin Tuna, Pacific Blue Marlin, and other incidental catches. If this will be your first time to try your hands on fishing, make sure your camera is ready when you reel in your first fish, as the thrill of it is something you'd definitely want a remembrance of!
Of course, after the time and effort you put into learning the basics of fishing from the well-trained crew, trying your luck in luring in a fish, and finally getting successful at hooking it, you'd want to take home and taste some of the day's catch! Thankfully, on the Bite Me 2 fishing tour, all guests are guaranteed to take home a portion of the fish catch during the tour. For private charters, the crew would gladly cut up your catch for some delicious barbecue for the rest of your stay in the Island. The captain and the crew, however, will also have the discretion as to whether certain fish will be reserved or released back to the ocean. The important thing, however, is that as long as you join this fishing trip, you'd get to take home some fresh seafood after!
Come aboard the Bite Me 2 and have a fishing adventure of a lifetime! Go and book your slots now!
Bite Me 2 Tour Boat
The Bite Me 2 is a 46' Hatteras that is equipped with:
An air-conditioned cabin

Sleeping quarters

Comfortable leather couches and custom-made bow cushions 

TV, VCR, DVD, and video games

Microwave

Coffee maker

Refrigerator

Clean restrooms
Bite Me 2 Fishing Gear
State-of-the-art reels (Gold Penn International, Shimano TLD Graphite)

Five – 130's; Two – 80's; Two – 50's

Four – TLD 25s; Four – TLD 15s

Penn International and Melton International custom-built rods

Rupp tournament outriggers

A full-sized Murray Brothers fighting chair

Tuna tubes

Live bait wells

Assorted accurate fishing tackle
Bite Me 2 Special Instructions
Departure time is at 6:30 AM, 10:30 AM, and 2:30 PM, depending on the fishing tour booked. 

Choose from the following

Bite Me 2

tours:
Half-day private charter (4 hours)

3/4-day private charter (6 hours)

Full-day private charter (8 hours)
Bite Me Sportfishing

allows for a full refund if the cancellation was made by the operator.
Guests are also entitled to a full refund if the reservation is cancelled prior to 48 hours of the scheduled departure.

Guests are guaranteed to take home a portion of the day's fish catch. However, the captain has the discretion as to which fish to keep, share to the guests, or be released back to the ocean.