Travel back in time at the Bishop Museum, the largest museum in the state of Hawaii, and explore everything from the evolution of the Hawaiian Islands, to the ancestral voyage to these islands and how Polynesian navigators used the stars to find their way over 2,000 years ago.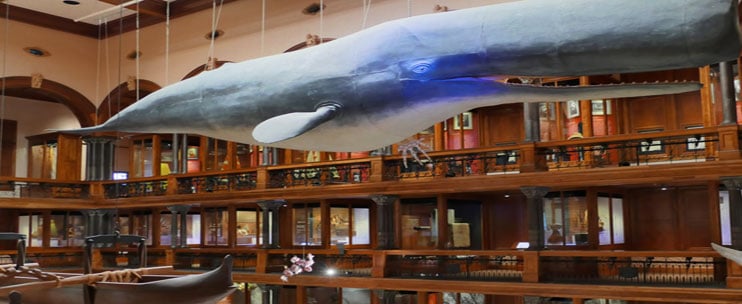 Founded in 1889, the museum features the world's largest collection of Polynesian cultural artifacts and natural history specimens. Enjoy a self-guided tour of the Bishop Museum with this general admission ticket, which gives you access to all of the museum's exhibits and the planetarium.
Tour Highlights
Tour Hawaii's largest museum – self-guided tour
See the museum's fascinating exhibits and planetarium
Exhibits may change but examples of exhibits are:

Mai Kinohi Mai: Surfing in Hawai'i
Spineless Wonders: Marine Invertebrates Rising from the Deep
Kaula Piko: The Source of Strings
The Science Adventure Center
The Pacific Hall

Learn about Hawaii's history and culture
Special Instructions
Where and When
Hours: 9:00 am – 5:00 pm
The Bishop Museum is located at 1525 Bernice Street, Honolulu, HI 96817 View Map
For guest looking for transportation the Bishop Museum was added to the Waikiki Trolley's Historic Honolulu Purple Line. You can purchase a Waikiki Trolley Purple Line pass and use that.
For guests driving out, parking is $5.00 per car (fee subject to change without notice).
Restrictions
Group discounts apply to groups of 10+ paying guests. When a reservation falls below that amount, ticket prices will be increased to regular pricing.
Wheelchairs
The museum is wheelchair accessible.
Operation Days
Daily, except Thanksgiving & Christmas
Duration
Open 9 am to 5 pm