Watch the magic in the form of these great manta rays for yourself
Go on a snorkel tour with us and see them as no one has before you. Manta Ray Night Snorkel: The Bay, Kailua-Kona Hawaii. Let's get started with the essentials. Who wants to spend their precious time on a boring beach when they could be holding on to a floatation device and floating right in front of the faces of these magnificent manta rays? Exactly nobody. So enjoy these magical giants as they feed just offshore under the light of our shining Hawaiian moon and stars! Sunsets are always beautiful, but you'll never forget one like this!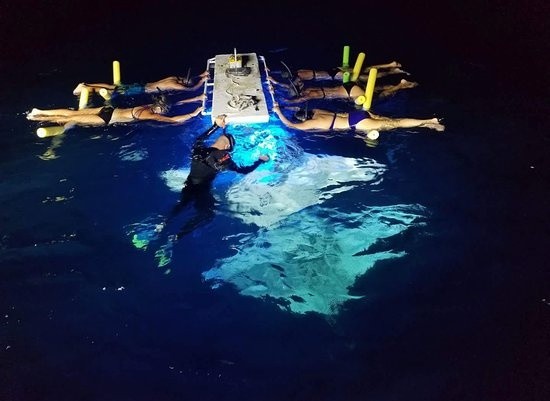 The next best thing after a day spent swimming around some colorful fish is snorkeling amongst them. Watch as schools of fish swim right through your viewpoint, or better yet, spy an elusive turtle gliding below the surface, then glide over for all those pictures that will make everyone back home.
Float fantastically with these enchanting creatures during this incredible night snorkel. Manta rays are considered the largest species of glow in the world (they grow up to 27ft!), and these giant creatures come right up to you, almost like they're playing with you on their back as they glide through currents of Kona waters. 
They make graceful movements that resemble an underwater ballet—right before your eyes. It's a magical experience unlike any other!
Soak up the mesmerizing fluorescent night-time atmosphere and enjoy a swim with a Rainbow Manta Ray in Hawaii. This is the best way to witness the fantastic behavior of these magnificent marine creatures. See them dancing and feeding on plankton, their favorite snack!
A private charter for 1-2 people will sail you out past Keauhou Bay, or if you have a family over three kids, four adults, or more, we can take up to 6 with us! There's no guarantee that you'll see any mantas, but it's worth the time, effort, and expense either way because just cruising along the dockside in Kailua Kona is breathtaking enough if there are no mantas seen.
Watch the celestial elegance of these majestic creatures from a distance. Get up close as they gracefully glide and dance before your eyes, glistening under the moon's light.
These graceful manta rays make this swim genuinely magical! A date night, couple's getaway, or family event. You won't want to miss out on this beautiful and sensual display in an unequaled location! Make sure you book your spot early!
The Manta Ray Night Snorkel is the ultimate snorkeling experience, set deep in the bay outside of Kailua-Kona. There is no better spot for exploring this incredible marine ecosystem and more visually striking seascape than these enormous creatures feasting on plankton! Observe one of nature's most impressive wonders as you swim among them; keep your camera handy for all those epic photo ops! The best part? This excursion only takes 35 minutes from start to finish, so no time is wasted when you're trying to fully enjoy each moment underwater with these incredible beings!
Book now!