Exploring Big Island takes several days before you get to see all the stunning sceneries it offers.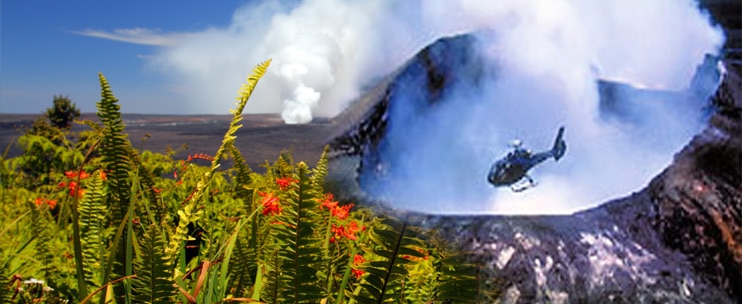 Fortunately, there is another way to watch the natural and unique spots, which you can never see in other places but Hawaii. With Paradise Helicopters, you will fly over Big Island's wonders such as the world's most active volcano that you can't see at a closer range by land, soaring waterfalls, white-sand beaches, and other places in just ten hours!
Hawaii boasts a rich history, untold stories, unique culture and fashion, and multi-ethnic cuisine. So, while you're on the island, why don't you take your vacay to the next level? Book your tickets now and fly with Paradise Helicopters with its Big Island Expedition!
Paradise Helicopters will pick you up from your resort or hotel to Kona Airport, where your adventure starts. One of the most important things you should never forget is your camera, which we are sure will be full of postcard-worthy photos and videos when you go back home. You will be welcomed by your experienced and professional pilot, along with a knowledgeable guide, who will tell you stories about the island.
Like other Paradise Helicopters' tours, your first destination is the Kona Coffee District. It is never out of the picture because everybody is interested to see a sweeping coffee region where you could find over 600 independent coffee farms. Did you know that they cultivate one of the most expensive coffees in the world here? According to Kona's history, it was Samuel Reverend Ruggles who first brought coffee cuttings here from Brazil.
After then, you will pass by the slopes of Hualalai and Mauna Loa before heading over to Hawaii Volcanoes National Park. Here's another interesting fact for you: Mauna Loa has been erupting for 700,000 years and emerged above sea level 400,000 years ago! It is one of the five volcanoes that form the island of Hawaii. According to experts, lava eruptions from this volcano are silica-poor and very fluid, and are most likely non-explosive.
Reaching the Volcanoes National Park, your pilot manipulates your helicopter and takes you to the world's most active volcano – the Kilauea. While it is the most active volcano, it is not always erupting. So, you're lucky if it is erupting at the time of your visit so you could see lava flowing. Currently, there is no predicted eruption in the near future but we never know, don't we? Luckily, you still get to see highlights in this area like the Pu'u 'Ō'ō Vent! This is a volcanic cone in the eastern rift zone of the Kilauea that is said to be producing lava fountains reaching heights of 1,540 feet.
In your next destination, you will be treated with majestic vistas of the island's rugged coastline, jagged cliffs, and lava tubes where lava used to flow. Now, you will notice that water gushes from these tubes instead, which nourishes the wide and rich vegetation of the locals. After then, you will touch down in Hilo town. You can take Paradise Helicopters' complementary ground transportation and wander downtown. Hilo may be a small town, but it is rich in natural and unique spots that you wouldn't want to miss. Have a walk to the farmers' market, Lyman Museum, Tsunami Museum, unique shops where you can buy one-of-a-kind mementos, or to any other points of interest. If you travelled solo, going to Akaka Falls, the World Botanical Gardens, Imiloa Astronomy Center, or Hawaii Volcanoes National Park must be in your agenda.
Before ending your excursion, your helicopter will take you to the next part of your air tour. Here, you will visit lush rainforests and the unparalleled Kohala valleys. Going back to Kona, you will complete your air tour by having a bird's eye view of iconic beaches, including Hapuna Beach and Kua Bay.
TOUR HIGHLIGHTS:
See the current activity at Kilauea Volcano

Amazing white and black sand beaches

Hundreds of waterfalls

10-hour helicopter adventure, including landing and land exploration

American-made helicopter with executive seating

2-000 foot valley walls

Breathtaking coastlines

Two-way communication allowing you to speak directly with your pilot

Fully-narrated helicopter tour