In this article, "Kauai Itinerary You Can't Miss: 1-Day on Kauai's South Shore (Poipu Beach to Koloa Town)," the Hawaii Vacation Guide takes you on a virtual tour of the beautiful island of Kauai. As island-hoppers themselves, they are eager to share their experiences and provide ideas for your upcoming Kauai vacation. From exploring the stunning beaches and historical towns to enjoying delicious local cuisine and spotting sea turtles, this itinerary is packed with must-see attractions and activities. So sit back, relax, and let the Hawaii Vacation Guide be your virtual tour guide for an unforgettable day on the South Shore of Kauai.

Introduction to Kauai Itinerary
Welcome to the beautiful island of Kauai! If you're planning a visit to this tropical paradise, you're in for a treat. This comprehensive 1-day itinerary will take you on an unforgettable journey through Kauai's picturesque South Shore. From sipping on delicious Kauai coffee to witnessing the power of nature at Spouting Horn Park and Allerton Botanical Gardens, and ending the day with stunning sunsets, this itinerary has it all. So grab your sunscreen, put on your walking shoes, and get ready for an incredible adventure on Kauai's South Shore.
Overview of 1-Day Itinerary on Kauai's South Shore
In this 1-day itinerary, we will cover all the major highlights of Kauai's South Shore. You'll start your day with a visit to a local coffee shop near Poipu, then explore the natural wonders of Spouting Horn Park and Allerton Botanical Gardens. Afterward, it's time to relax and soak up the sun at Poipu Beach. In the afternoon, you'll have the opportunity to explore the charming town of Koloa and enjoy a delicious lunch. Finally, you'll end your day with sea turtle watching at Koloa Landing and catching a breathtaking sunset at Tree Road. With so much to see and do, this itinerary will ensure you make the most of your time on Kauai's South Shore.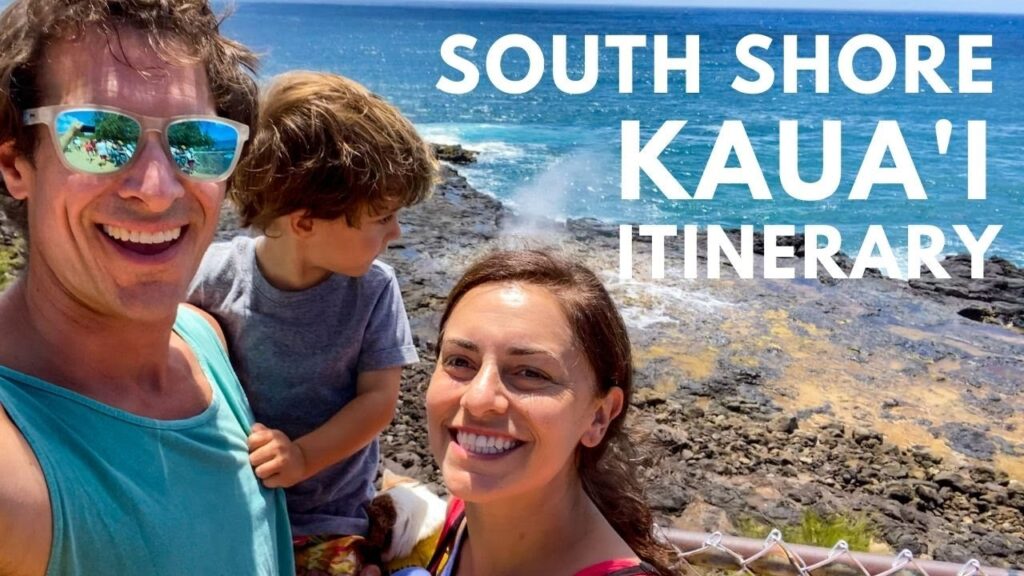 This image is property of i.ytimg.com.

Morning Activities
1.1: Favorite Kauai Coffee Shop Near Poipu
Start your day off right with a visit to one of the best coffee shops on the island. A local favorite near Poipu is Java Kai, located in the heart of Koloa Town. This charming café offers a variety of freshly brewed coffees, as well as delicious pastries and breakfast items. Whether you prefer a classic cup of joe or a unique Kauai blend, Java Kai has something to satisfy every coffee lover's taste buds. Grab your favorite brew to go, and you're ready to kickstart your day of adventure on Kauai's South Shore.
1.2: Visiting Spouting Horn Park and Allerton Botanical Gardens
After fueling up with caffeine, it's time to explore the natural wonders of Kauai. Your first stop is Spouting Horn Park, located along Lawa'i Road in Poipu. As you approach the park, you'll hear the distinctive sound of water rushing through the blowhole, creating a spectacular spray that can reach up to 50 feet in the air. Take a moment to admire this awe-inspiring display of nature's power and snap some memorable photos.
1.2.1: Blowhole
The blowhole at Spouting Horn Park is a unique geological formation that has become one of Kauai's most popular tourist attractions. Over time, waves have eroded a lava tube, creating a narrow opening through which water is forced up with tremendous force. This creates an impressive display of water shooting into the air, often accompanied by a hissing sound. Be sure to keep a safe distance from the blowhole, as the water can be unpredictable and powerful.
1.2.2: Allerton Botanical Gardens
Just a short drive from Spouting Horn Park is the magnificent Allerton Botanical Gardens. Spread across 80 acres, this botanical paradise is home to a stunning array of plants, trees, and flowers from around the world. Take a leisurely stroll through the garden's many pathways and be captivated by the beauty that surrounds you. Marvel at the towering trees, vibrant blooms, and tranquil water features. The garden's highlights include the Moreton Bay fig trees, which were featured in the film "Jurassic Park," and the incredible Sunset Terrace overlooking Lawa'i Bay.
1.3: Arriving at Poipu Beach
After immersing yourself in the natural wonders of Spouting Horn Park and Allerton Botanical Gardens, it's time to unwind and enjoy some beach time. Poipu Beach, located just a short distance from the botanical gardens, is often hailed as one of the best beaches in the world. With its golden sands, crystal-clear waters, and gentle waves, it's the perfect place to relax, swim, snorkel, or simply soak up some sun. Whether you prefer lounging on the beach or exploring the underwater world, Poipu Beach offers something for everyone.
Afternoon Activities
2.1: Exploring Koloa Town
After a refreshing morning at the beach, it's time to explore the charming town of Koloa. Known as the birthplace of Hawaii's sugar industry, Koloa Town is filled with historical landmarks and a unique blend of local shops and restaurants. Take a stroll down Koloa Road and immerse yourself in the town's rich history and architectural charm. Don't forget to snap some photos of the Old Koloa Town sign, a popular landmark that serves as a reminder of Koloa's cultural significance.
2.2: Lunch options in Koloa Town
Exploring Koloa Town can work up quite an appetite, and luckily, there are plenty of delicious lunch options to choose from.
2.2.1: Shave Ice
Beat the heat with a refreshing treat at one of Koloa's shave ice stands. Shave ice is a beloved Hawaiian dessert made from finely shaved ice topped with flavored syrup. It's the perfect way to cool down on a hot day. Make your own custom creation by choosing from a variety of mouthwatering flavors such as pineapple, coconut, and passion fruit. Add some sweet condensed milk or a scoop of creamy ice cream for an extra indulgence. Don't forget to snap a photo of your colorful shave ice masterpiece before digging in.
2.2.2: Wine Plate Lunches
If you're looking for a more substantial meal, head to one of the local eateries in Koloa that specialize in wine plate lunches. These lunches typically consist of a protein, such as grilled fish or marinated chicken, served with rice and macaroni salad. It's a delicious and satisfying option that will provide you with the energy you need for the rest of your adventure-filled day.
2.3: Heading to Shipwreck Beach
After refueling with a delicious lunch, it's time to venture further along the South Shore to Shipwreck Beach. Located near the Grand Hyatt Kauai Resort and Spa, Shipwreck Beach is known for its stunning views and rugged beauty. Take a leisurely walk along the shore, or if you're feeling adventurous, hike up to the Makahuena Point for panoramic vistas of the coastline. Keep an eye out for the remains of a shipwreck that gave the beach its name, which is visible during low tide. Be sure to bring your camera, as the sunsets at Shipwreck Beach are truly breathtaking.
Evening Activities
3.1: Sea Turtle Watching at Koloa Landing
As the sun starts to set, make your way to Koloa Landing for an incredible opportunity to see sea turtles up close. This popular snorkeling spot is known for its abundance of marine life, including the Hawaiian green sea turtles, also known as honu. These gentle creatures can often be seen swimming near the rocky shoreline or basking in the sun on the beach. Take some time to observe them in their natural habitat and appreciate their beauty and grace.
3.2: Sunset at Tree Road
End your day with a breathtaking sunset at Tree Road, a picturesque location overlooking the Poipu coastline. Find a comfortable spot under one of the towering palm trees and watch as the vibrant colors of the sunset paint the sky. The beauty of Kauai's sunsets is unmatched, and Tree Road provides the perfect vantage point to witness this natural spectacle. Don't forget to snap a photo to capture the beauty of the moment and create a lasting memory of your time on Kauai's South Shore.
3.3: Conclusion
As the evening draws to a close, reflect on the incredible experiences you've had throughout the day on Kauai's South Shore. From sipping on delicious coffee to exploring botanical gardens, relaxing on beautiful beaches, and witnessing stunning sunsets, this 1-day itinerary has allowed you to make the most of your time in paradise. Whether you're a nature lover, a food enthusiast, or simply seeking relaxation, Kauai's South Shore has something for everyone. As you head back to your accommodations, remember to cherish these memories and look forward to more adventures on this enchanting island.