Join us on an exciting week-long adventure as we explore the magical island of Oahu, Hawaii. Bursting with breathtaking beaches, stunning natural landscapes, thrilling shark dives, and a vibrant food scene, Oahu has something for everyone. In this travel guide and tips video, we'll take you on a journey through the island's top attractions, including the Polynesian Cultural Center, Manoa Falls, Waikiki Beach, and more. We'll also provide a comprehensive 7-day itinerary, highlighting the best activities, food spots, and must-visit locations. So get ready to immerse yourself in the beauty and wonder of Oahu as we uncover its hidden gems and create unforgettable memories along the way.
In the picturesque state of Hawaii, Oahu stands out as the most visited island, and for good reason. Boasting pristine beaches, awe-inspiring natural landscapes, and thrilling shark encounters, this tropical paradise offers a perfect getaway. Our video, "Discover The Magic of Oahu – 2023 Hawaii Island 7 Day Travel Guide & Tips," takes you on a captivating journey through the island's top attractions, including hiking to Manoa Falls, snorkeling at Hanauma Bay, and exploring the vibrant Waikiki Beach. With our 7-day itinerary and recommendations for the best local eateries, you'll have all the tools you need to make the most of your time on this enchanting island. Get ready for an adventure of a lifetime!
Day 1: Arrival and Waikiki Beach
Arriving in Oahu
Welcome to Oahu, Hawaii! As you step off the plane and breathe in the warm, tropical air, you can feel the excitement building for the adventures that await you on this beautiful island. After a short drive from Honolulu International Airport, you arrive at your hotel in the vibrant neighborhood of Waikiki.
Choosing Accommodation in Waikiki
Waikiki is the perfect base for your stay in Oahu. With its central location, cost-effectiveness, and stunning beachfront, you'll have everything you need right at your doorstep. There are plenty of accommodation options in Waikiki, ranging from luxury resorts to boutique hotels and budget-friendly rentals. Choose a place that suits your preferences and enjoy the convenience of staying in this lively and iconic neighborhood.
Exploring Waikiki Beach
After settling into your accommodation, it's time to hit the famous Waikiki Beach. This world-renowned stretch of sand is just steps away from your hotel and offers a perfect spot for relaxation and soaking up the sun. Whether you choose to lounge on the sand, take a dip in the crystal-clear waters, or try your hand at surfing, Waikiki Beach has something for everyone. Don't forget to take in the stunning views of Diamond Head, an iconic volcanic crater that serves as a backdrop to the beach.
Indulging in Banana Ice Cream at Banan
After a leisurely afternoon at the beach, satisfy your sweet tooth with a visit to Banan. This local favorite is known for its delicious and unique banana ice cream creations. From classic flavors like chocolate and strawberry to more adventurous combinations like peanut butter and Nutella, there's something for everyone at Banan. Treat yourself to a refreshing and tropical dessert as you wind down your first day in Oahu.
Day 2: Hiking and Local Food
Hiking the Manoa Falls Trail
Get ready for a morning of adventure as you embark on the Manoa Falls Trail. This scenic hike takes you through lush greenery, towering bamboo forests, and eventually leads you to a stunning waterfall at the end. Immerse yourself in nature and take in the sights and sounds of the tropical rainforest. Remember to pack comfortable shoes, water, and sunscreen as you navigate the trail.
Lunch at Kaimana Farm Cafe
After working up an appetite on the hike, head to Kaimana Farm Cafe for a delicious lunch. This local gem offers a menu packed with fresh, locally grown ingredients. From nutritious salads to mouthwatering sandwiches, there's something for every palate. Indulge in a healthy and satisfying meal while supporting local farmers and sustainable agriculture.
Dinner at Hideout
For a memorable dinner experience, make your way to Hideout. This lively restaurant offers a vibrant atmosphere and a menu filled with creative dishes. From fresh seafood to flavorful vegetarian options, Hideout has something to please every taste bud. Sit back, relax, and enjoy a delicious meal surrounded by the energy and warmth of Oahu.
Dessert at Matsumoto Shaved Ice
No trip to Oahu is complete without indulging in a refreshing and flavorful shaved ice treat. Matsumoto Shaved Ice, located on the North Shore, is a must-visit spot for this classic Hawaiian dessert. Choose from a variety of mouthwatering flavors and enjoy the perfect balance of sweetness and ice-cold bliss. It's the ideal way to end your day with a cool and satisfying dessert.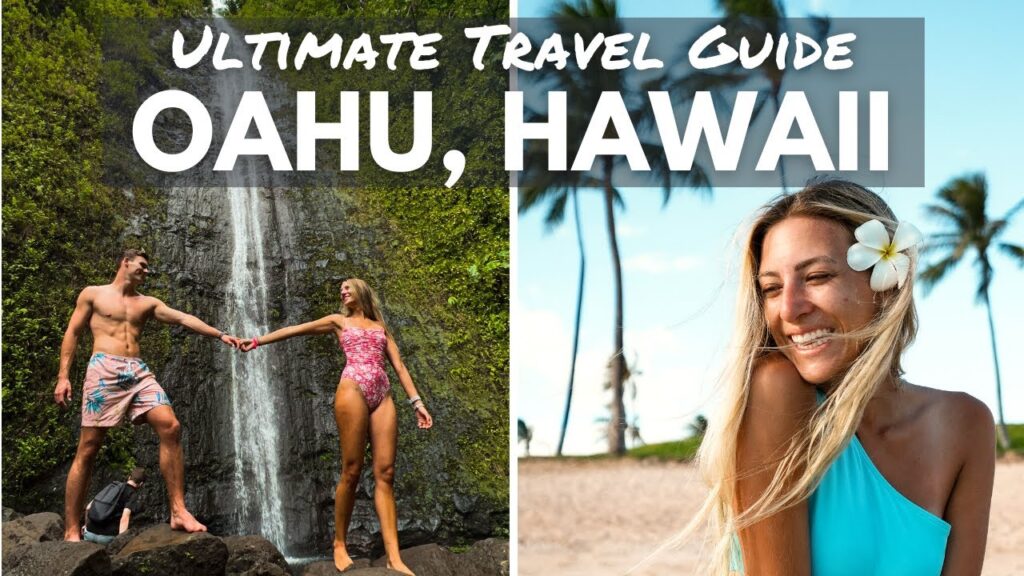 This image is property of i.ytimg.com.
Day 3: Thrilling Shark Diving and Delicious Food
Experience Shark Diving with One Ocean Diving
Get ready for an unforgettable adventure as you dive into the world of sharks with One Ocean Diving. This thrilling experience allows you to get up close and personal with these majestic creatures. As you swim alongside them, you'll gain a whole new perspective on these misunderstood animals. Don't worry, though—One Ocean Diving prioritizes conservation and ensuring safe interactions with the sharks. It's an incredible and humbling experience that you won't want to miss.
Lunch at Giovanni's Shrimp Truck
After an adrenaline-filled morning, satisfy your seafood cravings with a visit to Giovanni's Shrimp Truck. This iconic food truck is a local favorite, serving up mouthwatering garlic butter shrimp. The shrimp is cooked to perfection and bursting with flavor. Grab a plate and dig in as you savor the tastes of Hawaii's delicious seafood.
Exploring Dole Plantation
Take a break from the coast and head inland to explore the Dole Plantation. This tropical paradise offers a fascinating look at the pineapple industry in Hawaii. Take a tour of the plantation to learn about the history and cultivation of pineapples, and immerse yourself in the vibrant colors and flavors of the surrounding gardens. Don't forget to indulge in some pineapple-themed treats, like the famous Dole Whip soft-serve ice cream.
Dinner at Marukame Udon
For a taste of authentic Japanese cuisine, visit Marukame Udon. This popular eatery serves up delicious, freshly made udon noodles in a variety of flavorful broths. Watch as the skilled chefs prepare the noodles right in front of you, and customize your bowl with toppings and sauces. It's a satisfying and comforting meal that will leave you wanting more.
Day 4: Cultural Immersion and Snorkeling
Visit Polynesian Cultural Center
Immerse yourself in the rich cultures and traditions of Polynesia at the Polynesian Cultural Center. This living museum offers a unique opportunity to learn about the history, music, dance, and customs of various Polynesian islands. Explore authentic villages, interact with locals, and witness captivating performances that showcase the beauty and diversity of Polynesian heritage.
Learn About Polynesian Cultures and Traditions
Take the time to dive deeper into the cultures and traditions of Polynesia. Attend workshops and demonstrations to learn traditional crafts, try your hand at traditional games, or even learn how to dance a hula. Gain a deeper appreciation for the traditions and customs of the Polynesian people as you interact with knowledgeable locals who are passionate about sharing their heritage.
Snorkeling at Hanauma Bay
After a morning of cultural immersion, head to Hanauma Bay for an unforgettable snorkeling experience. Known for its clear waters and abundant marine life, Hanauma Bay offers a unique opportunity to explore the vibrant coral reef ecosystem. Dive beneath the surface and swim among colorful fish, sea turtles, and maybe even spot a moray eel or two. Remember to respect the marine environment and follow the guidelines for responsible snorkeling.
Enjoy Locally Grown Food for Dinner
Wrap up your day of cultural exploration and snorkeling with a hearty dinner featuring locally grown ingredients. Oahu is known for its farm-to-table dining scene, and there are plenty of restaurants that prioritize sustainability and supporting local farmers. Choose a restaurant that showcases the flavors of Hawaii with dishes made from fresh, seasonal produce and locally sourced proteins. It's a delicious way to nourish your body and support the local food community.
Day 5: Breathtaking Views and Brunch
Hike Willy Willy Nui Bridge Trail
Begin your day with a hike along the Willy Willy Nui Bridge Trail. This scenic trail offers breathtaking views of the island, with panoramas that stretch as far as the eye can see. As you make your way along the ridge, take in the lush vegetation, unique rock formations, and stunning vistas that make this hike a must-visit for nature lovers and photography enthusiasts.
Enjoy Stunning Views of the Island
Take your time at the Willy Willy Nui Bridge Trail to fully appreciate the beauty of Oahu. Pause along the trail to soak in the panoramic views, snap photos of the awe-inspiring landscapes, and simply enjoy being surrounded by nature. It's a remarkable experience that allows you to connect with the island's natural wonders and create memories that will last a lifetime.
Brunch at Eggs and Things
After working up an appetite on the hike, satisfy your cravings with a delicious brunch at Eggs and Things. This popular spot offers a wide range of breakfast and brunch options, from fluffy pancakes and savory omelets to mouthwatering eggs Benedict. Pair your meal with a cup of freshly brewed coffee or a refreshing tropical juice for the perfect start to your day.
Relaxing at Lanikai Beach
After brunch, make your way to Lanikai Beach for a relaxing afternoon by the crystal-clear waters. This picturesque beach is famous for its powdery white sand, gentle waves, and stunning views of the Mokulua Islands. Find a cozy spot on the sand, soak up the sun, and take a refreshing dip in the turquoise waters. It's the perfect place to unwind and enjoy the natural beauty of Oahu.
Day 6: Swimming and Adventuring
Visit Electric Beach
Start your day with a visit to Electric Beach, a hidden gem known for its vibrant underwater ecosystem. This beach gets its name from the nearby power plant's warm water discharge, which attracts a wide variety of marine life. Put on your snorkel gear and dive into the clear waters to swim among colorful fish, sea turtles, and maybe even spot a dolphin or two. It's a unique snorkeling experience that offers a glimpse into the diverse marine world of Oahu.
Explore Mermaid Caves
Continue your aquatic adventures by exploring the enchanting Mermaid Caves. These natural sea caves are located along the western shore of Oahu and offer an otherworldly experience. Dive beneath the surface and swim through the caves' narrow passages, marveling at the play of light and shadow within. Just be sure to check the ocean conditions and consult with local experts to ensure a safe and enjoyable visit.
Snorkeling at Sharks Cove
For your final snorkeling excursion on Oahu, head to Sharks Cove, located on the North Shore. Despite its name, this snorkeling spot is known for its abundant marine life and vibrant coral reefs. Strap on your mask and fins and explore the underwater world, swimming among tropical fish, sea turtles, and unique coral formations. Take your time and appreciate the beauty and tranquility of this picturesque snorkeling spot.
Lunch at Leonard's Malasadas
After working up an appetite with all the swimming and adventuring, treat yourself to a delectable lunch at Leonard's Malasadas. These Portuguese donuts are a true Hawaiian delight, featuring fluffy, deep-fried dough dusted with sugar and filled with a variety of sweet fillings. Indulge in flavors like custard, chocolate, or local favorites like haupia (coconut) or lilikoi (passion fruit). It's a tasty way to refuel and satisfy your sweet tooth.
Day 7: Last Day on Oahu
Visit Waimea Falls
On your last day in Oahu, start with a visit to Waimea Falls. Located on the North Shore, this stunning waterfall is surrounded by lush botanical gardens, creating a picturesque setting for exploration. Take a leisurely stroll along the paved trail, breathing in the fragrant tropical air and enjoying the sights and sounds of the rainforest. Once you reach the falls, take a refreshing dip in the pool beneath and let the cascading water wash away any worries.
Enjoy Snorkeling at Sharks Cove
For one final snorkeling adventure, return to Sharks Cove and savor the underwater paradise one last time. Explore different areas of the cove, discover new marine species, and take in the vibrant colors of the coral reef. It's a chance to reflect on your time in Oahu and appreciate the natural wonders that this island has to offer.
Catch the Sunset at Seven Brothers Food Truck
As the day winds down, make your way to Seven Brothers Food Truck for a memorable sunset experience. Feast on delicious food and enjoy a front-row seat as the sky transforms into a canvas of vibrant colors. The food truck offers a variety of mouthwatering options, including burgers, sandwiches, and fresh seafood. Grab a tasty meal, find a cozy spot to sit, and soak in the beauty of the sunset as Oahu bids you farewell.
Final Dinner on Oahu
End your last day on Oahu with a final dinner that captures the essence of the island's culinary scene. Choose a restaurant that showcases local flavors and ingredients, and savor every bite as you reminisce about the incredible experiences and memories you've made on this tropical paradise. Raise a glass to a wonderful trip and the promise of future adventures.
Conclusion
Final Thoughts on Oahu
Oahu is a destination that truly has it all—stunning beaches, breathtaking natural landscapes, thrilling adventures, rich cultural experiences, and a food scene that will tantalize your taste buds. From the iconic Waikiki Beach to the awe-inspiring hikes, exhilarating shark dives, and mouthwatering local cuisine, Oahu offers a diverse range of activities and attractions that cater to every traveler's interests.
Memorable Experiences on the Island
During your week on Oahu, you've had the opportunity to swim with sharks, immerse yourself in Polynesian cultures, hike to breathtaking viewpoints, snorkel in vibrant coral reefs, and indulge in the island's delectable cuisine. These unforgettable experiences have given you a deeper appreciation for the natural wonders, cultural heritage, and the warm spirit of aloha that embodies Oahu.
Planning Your Next Visit
While this 7-day itinerary has introduced you to the best of Oahu, there is still so much more to discover on this incredible island. From exploring the rugged coastline of the North Shore to embarking on scenic drives through the lush mountains, Oahu invites you to return and continue your exploration of its hidden gems. Start dreaming of your next trip and start planning the adventures that await you.
Affiliate Commissions Disclosure
As you plan your future trips to Oahu or any other destination, keep in mind that the creators of the video and this article may earn affiliate commissions through recommended links. These commissions don't cost you anything extra and help support the production of helpful travel content. So, as you explore the recommendations and resources mentioned, know that you're supporting passionate content creators who are dedicated to sharing their love for travel and helping you make the most of your adventures.